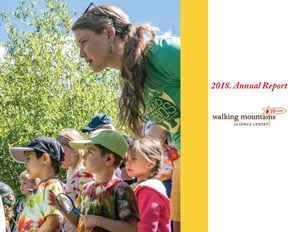 Dear Friends,
Our Annual Report for fiscal year 2018 ( July 1, 2017-June 30, 2018) brings more exciting news than ever before, and we are thrilled to share it with you.

This year we celebrated our 20th anniversary, highlighting the vast work and growth we have accomplished with your support. In this Annual Report, you will find statistics of which we are immensely proud—from an all-time high of people whose lives we have enriched through opportunities to learn more about the natural world through lectures, films, and hikes to record-breaking amounts of waste diverted from the landfill. We have increased our impact on our community, serving more children every year in part due to a 25% increase in Foley Graduate Fellows and, in the coming year, will be opening our doors to the Borgen Precourt Center for Sustainability, doubling our classroom space and significantly increasing the number of Eagle Valley children who will have the opportunity to be inspired and empowered to preserve and protect our planet.

Our efforts have also demonstrated a dramatic increase in sustainability efforts from around the valley, resulting in the Town of Vail becoming the first sustainable

mountain resort destination in the world and the first Certified Sustainable Destination in the United States, in large part because of Vail's partnership with us.
There is so much we have celebrated this year, and so much we are looking forward to, including multiple program expansions to meet the ever-increasing demand for our programs. We could not have grown and fulfilled so many needs without your generosity and support, and we still have further to go. We are grateful for all our donors and partners, and look forward to what we might accomplish together in the next twenty years!

With Best Regards,