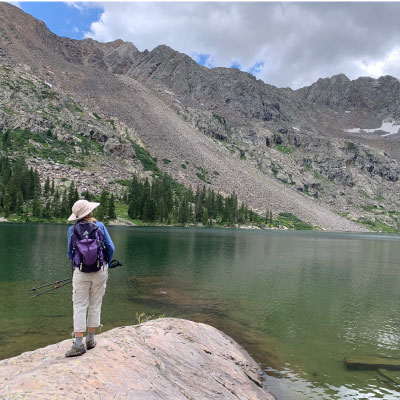 The lengthening days and melting snow mean one thing for many of us in the Eagle Valley – hiking season! This summer Walking Mountains Science Center is excited to partner with a number of local artists, scientists, and non-profit organizations to offer an exciting line up for our 2021 Science Behind on the Trail Series! Now in its second year, this monthly series takes our popular Science Behind Series out of the classroom and onto the trail to explore the arts, activities, and issues that connect us to our environment. Unique to this summer's line up is a mini-series focused on the arts in the backcountry. Explore music, photography, and the fine arts on the trail with us in June, August, and September!
June 7th, 2021 – The Science Behind Wildlife Life Closures & Sustainable Trails w/VVMTA
5:00-8:00pm, $10 ($5 for Eagle Valley Young Professionals*)
For our first hike we join our friends at the Vail Valley Mountain Trails Alliance to explore the importance of the many wildlife closures currently in place on our favorite trails. For this program we will hike the Cougar Ridge Trail towards Lionshead rock, in Minturn Colorado.
June 27th & 29th – The Science Behind the Music in Nature w/the Runaway Grooms
4:45 – 8:30pm, $25 ($15 for Eagle Valley Young Professionals*)
Explore the connection between music and nature with our valley's own band, The Runaway Grooms! This exciting program will take place on the West Grouse Creek & Meadow Mountain Trails and feature an intimate acoustic show on the slopes of Meadow Mountain.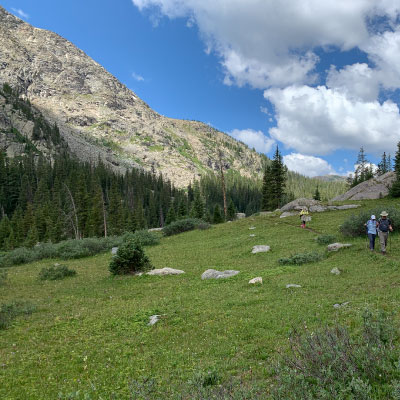 August 1st – The Science Behind Observation – Awakening our Senses as Naturalist Tools
Join Walking Mountains' naturalist & backcountry guide Lindsay Gilkerson on a hike exploring our senses and the connection between mindfulness and the outdoors. This hike blends guided mediations with movement as we learn to connect with ourselves and our environment. Location and details for this program are to be announced, so check back on our website soon for more information!
August 28th – The Science Behind Nature Photography w/Todd Winslow Pierce
7:00am – 12:00pm, $25 ($15 for Eagle Valley Young Professionals)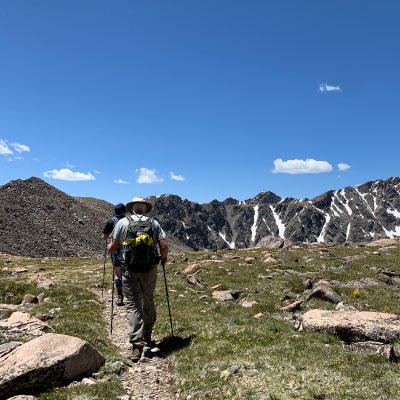 Join Vail native Todd Winslow Pierce for a hike exploring the principles of light, perspective and composition. Todd is a professional photographer and Founder of Eagle Valley Wild, a non-profit photography project that benefits Eagle County's conservation organizations, efforts and initiatives. All skill and experience levels (and technologies from cell phones to high resolution cameras) are welcome! Participants will gain insights and inspiration for taking photos with more feeling, depth and clarity, and for capturing special moments & locations with more visual impact. The trail for this hike is TBD, but it will be held on a moderate hike up to 4 miles round trip local to the Eagle Valley.
September – The Science Behind the Art of Fall Colors
To conclude our summer line up we will explore the science of color, and how to express Colorado's most scenic season through art. Details for this program are to be announced, so check back soon!
See below for our full line up. Visit www.walkingmountains.org/hike and scroll to Science Behind on the Trail to register for any or all of these fun programs!
---
Nathan Boyer-Rechlin is the Community Outreach Coordinator at Walking Mountains, and coordinates & guides WMSC's backcountry hiking programs.
Hike with Walking Mountains!
If you are interested in exploring your local backcountry trails with a guide, or learning more about the wildlife (and how to track them) or snow science of our valley, join Walking Mountains Science Center for half day snow shoe tours in the White River National Forest each Tuesday and Thursday. Programs include tracking programs and snow science hikes. For more information and to register visit www.walkingmountains.org/snowshoe.