Trail Name: Avon Overlook Trail
Walking Mountains' weekly snowshoe hikes are hand picked by our hiking guides and environmental educators to get you out on the most beautiful trails at the most scenic times. Walking Mountains' team of nature nerds and backcountry snowshoe guides are certified interpretive guides are out there to show you the best experiences on our vast public lands and wild environments. Check back next week for another timely and beautiful, Hike of the Week!
Mileage:
Roughly 2 miles out and back.

Subjective rating:
Tough! This trail is almost all uphill but a great in-town location to get your heart rate up.

What to Expect: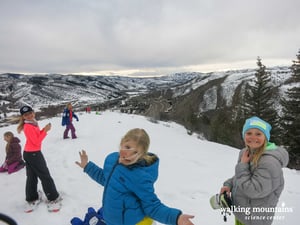 Park at your favorite non-profit whose mission is to awaken a sense of wonder and inspire environmental stewardship and sustainability through natural science education. That's right, Walking Mountains! The upper lots are dedicated to visitor parking but fill up fast during busier times of the year and auxiliary parking is available as soon as you turn on to Walking Mountains Lane.

The trail starts out on Walking Mountains' nature walk loop but then takes an eastward turn and heads up the hillsides directly on the North side of I70. It follows an old road cut that was popular for 4-wheeling before the Science Center was born. Lots of work has taken place here over the past year as the Colorado Tourism Office's Leadership Group and students with VSSA have put in hours fixing drainage issues and creating waterbars.

The trail takes a handful of switchbacks, a couple with great views of the I70 corridor, before summiting the hillside beneath the powerlines, visible from I70. The summit is a great place to watch 4th of July fireworks, gain a new perspective of the runs at Beaver Creek, and check road conditions before you brave winter driving on the highway!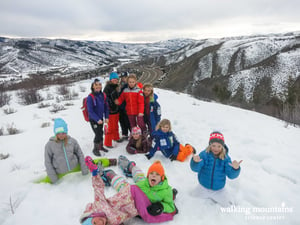 Stewardship Message:
The overlook trail is a great place to take the pups (shout out to Eric and Mini!) out for a walk but please remember that all dogs should be leashed while on Walking Mountains' campus core and trails (as soon as you start uphill you're off their property). There are trash receptacles and bags provided at both Walking Mountains' parking lots so there is no excuse not to pick up after them! Don't forget to stop by and visit with your local nature nerds after your hike to get all your burning snow science questions answered!
Snowshoe with Walking Mountains:
Walking Mountains Science Center leads guided hikes year round for people of all ages and abilities. To see a schedule, visit www.walkingmountains.org or stop by one of our Eagle Valley Locations:
In Avon at the Buck Creek Campus behind the hospital
On Vail Mountain at the Nature Discovery Center
At the Vail Nature Center near the Betty Ford Alpine Gardens