Trail Name: The
Colorado Trail at Tennessee Pass
Walking Mountains' weekly snowshoe hikes are hand picked by our hiking guides and environmental educators to get you out on the most beautiful trails at the most scenic times. Walking Mountains' team of nature nerds and backcountry snowshoe guides are certified interpretive guides are out there to show you the best experiences on our vast public lands and wild environments. Check back next week for another timely and beautiful, Hike of the Week!
Mileage:
Roughly 6 miles into Camp Hale but plenty of shorter (and steeper!) options like the Powderhound Loop.

Subjective rating:
Staying on the Colorado Trail keeps things quite moderate but if you venture off on the designated snowshoe trails you will find a variety of climbs and descents.

What to Expect: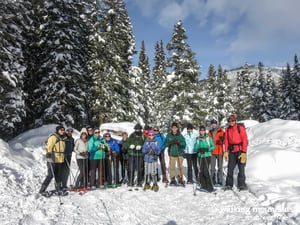 Travel South on Highway 24 towards Ski Cooper, parking at the lot across from the entrance to Ski Cooper. This is also the parking lot you'd utilize if you are fortunate enough to have booked hut access at Point Breeze or the Continental Divide cabin! The trail winds northeast along an old road grade before eventually entering into Camp Hale from the South. The trail continues through Camp Hale before summiting Kokomo and Searle Passes before the drop into Summit County.
These sections of the trail are harder to access because of the long approach but if the avalanche conditions are safe, and the legs are up for it, it is a beautiful locale.
Back closer to Tennessee Pass, the trail passes by old ovens that were used to burn green logs to make charcoal for the timber and railroad industries. If you can locate the first set of ovens, keep walking into the large clearing at the bottom of the hill and you may spy another set on the northern edge of the meadow. It is roughly a 3 mile round trip to the meadow and back and is a great place for an easy introduction to snowshoeing!

Stewardship Message:
As the holidays approach many people head out onto their local National Forest in search of the perfect conifer to bring into their homes to celebrate the season. In our area, this is acceptable as long as you have the required permit from the USFS (which you can pick up from our friends at their Minturn office) and are confident in your tree ID skills to ensure you don't cut down our beautiful Colorado blue spruce. Remember flat, friendly, fir and square, spikey spruce! Don't hesitate to contact your local nature nerds for more help distinguishing our local conifers!
Snowshoe with Walking Mountains:
Walking Mountains Science Center leads guided hikes year round for people of all ages and abilities. To see a schedule, visit www.walkingmountains.org or stop by one of our Eagle Valley Locations:
In Avon at the Buck Creek Campus behind the hospital
On Vail Mountain at the Nature Discovery Center
At the Vail Nature Center near the Betty Ford Alpine Gardens