Meet our staff! Walking Mountains staff is full of brilliant, interesting and funny individuals. We want the community that might not have a chance to work with them or participate in their program to get to know our staff. Trust us-- our staff makes all the difference! Join us Fridays for a new blog post. Click the tag at the bottom for more spotlights!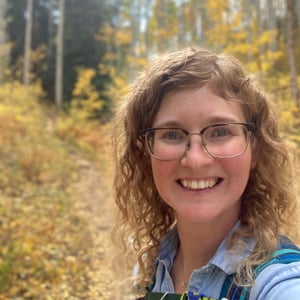 Staff Spotlight: Carrie Anderson
What is your position at Walking Mountains? What is your primary responsibility?
I am the Environmental Stewardship Coordinator at Walking Mountains Science Center. I have the responsibility of providing opportunities for people of all ages (but mostly high schoolers) to become active caretakers of our favorite wild places. I coordinate multiple internships each summer that help high schoolers learn about land management and conservation and step up as environmental leaders in our community.
How long have you been at Walking Mountains?
I have been working at Walking Mountains since January 2020 and have loved getting to know our community and local trails, rivers, and ski runs.
How long have you lived in Eagle County? Where did you live before?
I moved to Eagle County in January from Yosemite National Park, CA where I provided environmental education opportunities for K-12 students in the park... but I consider where I grew up in Northern New Mexico to truly be home!
What inspires you, in regards to your job?
I am inspired by my students. I believe that they are our future. They never cease to amaze me with their ideas, interests, passions, and potential. This last summer, I worked with 7 amazing local high schoolers and I LOVED getting to have discussions about the needs of our community and our planet each week. They were each so creative and innovative.
Do you have a favorite program or event that WMSC hosts? Why do you enjoy that program?
I love the Natural Resource Internship and the Environmental Leadership Pathways class/internship at Battle Mountains High School. During the Natural Resource internship, young people work alongside US Forest Service professionals and scientists to work an a variety of different conservation projects all over the White River National Forest. During this internship, the interns learn all about our local ecology, land management, and environmental impacts and earn college credits from Colorado Mountain College.

During the Environmental Leadership Pathways Class, Battle Mountains students take field trips to local conservation organizations (including the US Forest Service, Eagle River Watershed Council, Eagle Valley land Trust, Betty Ford Alpine Garden, Sylvan Lake State Park, and Mountain Rec.) and learn all about the work they are doing to engage people in the outdoors and conserve our beautiful landscape. At the end of the class, the students are placed with one of these organizations for a summer internship.

I think they are both unique within our community and open some amazing doors into careers in conservation for our local young people.
Where else in the community do you work or volunteer?
I am still pretty new to this community (and COVID-19 definitely hasn't made it easy), so I am still in the process of learning about all the amazing things that our community has to offer. I hope to get more involved with the Adopt-a-Trail program and the Eagle River Watershed Council to help me feel more rooted in this beautiful place.
What is your favorite way to spend time in the outdoors?
Buckle up... It is a pretty long list: hiking, backpacking, running, mountain biking, cycling, canoeing, rock climbing, swimming, skiing, XC skiing, snowshoeing, nature drawing, wildflower hunting, and picnics with friends and family.
What is your favorite food?
I will eat pretty much any food but olives. My favorites are sushi, ice cream, tamales, and corndogs. I love trying new foods when I travel and have spent a lot of my time during COVID cooking and baking.
What is your favorite animal?
My favorite animal is the Pika! They are in the same family as rabbits and live at higher elevations. My friends and family say that my laugh sounds just like a pika call when you really get me giggling!
What is your favorite science or nature fact?
One of my favorite science fun facts is that - 40 degrees celsius is the same temperature as -40 degrees fahrenheit! At that temperature, the two scales coincide!
Fun/interesting fact about yourself?
Last year, I hiked to the top of Mt. Kilimanjaro and for a brief moment, I was the tallest object in the continent of Africa! It was a tough hike and 19,000 feet above sea level is no joke!


View Carrie's Staff Page:
HERE