Meet our staff! Walking Mountains staff is full of brilliant, interesting and funny individuals. We want the community that might not have a chance to work with them or participate in their program to get to know our staff. Trust us-- our staff makes all the difference! Join us Fridays for a new blog post. Click the tag at the bottom for more spotlights!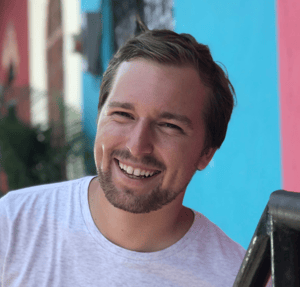 Staff Spotlight: Landyn Mills
- What is your position at Walking Mountains? What is your primary responsibility?
I am the Grants Associate where I assist in the management and execution of our grants strategy; researching funding opportunities, contact funders, draft grant proposals, and manage awarded grants. In this role, I am a member of the development team working with them to achieve our fundraising goals and collaborating with our program teams to support their funding needs.
- How long have you been at Walking Mountains?
I am still relatively new at Walking Mountains. I started in June and coming up on four months.
- How long have you lived in Eagle County? Where did you live before?
I am also pretty new to Eagle County. About a year ago I moved to Colorado from Wisconsin in Glenwood Springs, but then when I was offered a job at Walking Mountains I was excited to relocate once again in Eagle County. For the first few months I commuted from Glenwood Springs and only finally moved to Edwards last weekend.
- What inspires you, in regards to your job?
Every day I am inspired by the passion and drive of my co-workers. Walking Mountains is special because of the staff that makes up the organization. I love being a part of a team that shares my passion for making a real difference in building a better future for our society. From the values of stewardship we instill in the young to the sustainable behaviors we promote, I am inspired by the different ways Walking Mountains makes an impact on our community.
- Do you have a favorite program or event that Walking Mountain hosts?
My background before Walking Mountains is in Sustainability and my big draw to Walking Mountains was our Sustainability Programs, so I would have to say one of my favorite programs is Zero Waste. And trust me, that decision to choose a favorite program was tough since I love so many of our programs. For me Zero Waste is such a unique program that allows us to directly engage our community managing an event's waste and show/teach people about how to properly dispose of waste. It gives us a unique opportunity to engage with a wide range of community members and not only make a direct impact on sustainability, but promote behavior change.
- Where else in the community do you work or volunteer?
As a recently new resident of Eagle County, I am still discovering ways and different organizations to be involved in. A few weekends ago I volunteered for Can Do MS at an event and look forward to find more ways to support the thriving nonprofit sector in our community.
- Whats your favorite way to spend time in the outdoors?
I love to be in the outdoors in any way possible and love trying new activities, which is why I love living in Colorado. I would have to say though my two favorite outdoor activities are birding and trail running.
- What is your favorite food?
I love all food and always hate answering this question because I don't want a food group to get jealous that I didn't name them even though I love them. But the food I almost always have a craving for is Pizza and Chinese food, so they are always my go-to.
- What is your favorite animal?
My favorite animal is a polar bear but have different favorites depending on the type of wildlife. My favorite local wildlife that I always love to spot and could watch them for days is Elk.
- What is your favorite science or nature fact?
I love constantly learning about science and nature. The fact that I recently learned that amazes me and makes me love Aspens more than any other tree is that a stand of Aspens is a single organism connected by an underground root system. So freaking cool!
- What is a fun or interesting fact about yourself?
Last year, I lived in Costa Rica for nearly a year studying natural resource management and Sustainable Development. In that time, I traveled across Central America and I truly love the cultures of Latin America.