Meet our staff! Walking Mountains staff is full of brilliant, interesting and funny individuals. We want the community that might not have a chance to work with them or participate in their program to get to know our staff. Trust us-- our staff makes all the difference! Join us Fridays for a new blog post. Click the tag at the bottom for more spotlights!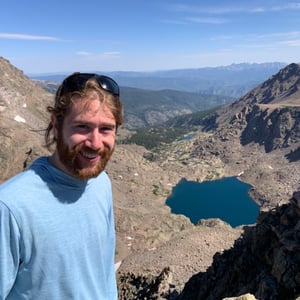 Staff Spotlight: Scott Dunn
What is your position at Walking Mountains? What is your primary responsibility?
I am one of our Community Program Coordinators here at Walking Mountains. I manage the day to day operations and interpretive programming happening out of the Vail Nature Center and Mountain Discovery Centers as well as run our Science Behind Series. I also help supervise and mentor our team of Naturalists interns.
How long have you been at Walking Mountains?
I have been with Walking Mountains for around a year and a half. Starting as a summer Naturalist before taking on my current role.
How long have you lived in Eagle County? Where did you live before?
I have lived in Eagle County for about around a year and a half, moving for my position with Walking Mountains. I am originally from the Cleveland, OH area and spent time in Montana before landing here.
What inspires you, in regards to your job?
At the root of what inspires me is my appreciation for the natural world and the myriad of benefits it provides me and the global community. I love connecting others to the beauty, complexity and importance of the natural world and their place in it.
Do you have a favorite program or event that WMSC hosts? Why do you enjoy that program?
I enjoy organizing, leading and participating in the Science Behind Series. This is a program favorite of mine because the sky's the limit when it comes to program topics. There is always something new to explore through science and this program feeds my natural curiosity and love of learning.
Where else in the community do you work or volunteer?
Outside of working at Walking Mountains you may see me at markets and fairs around the valley selling functional art, lighting and other homegoods all constructed out of upcycled bicycle parts.
Check out Scott's art: HERE
What is your favorite way to spend time in the outdoors?
In general, get me outside with good people and I am happy. I love spending time outside on my bicycle whether it be rambling on mountain roads looking for that new camp spot or pedaling party pace around town.
What is your favorite food?
Hands down, ice cream. Soft serve, sundae, cup, cone; I'll take it all. There is nothing like an ice cream cone on a hot day or any day really.
What is your favorite animal?
Asking an environmental educator about their favorite animal is like asking a painter for their favorite color. My favorite animal is the one I get the chance to see. It's easy to love the big and flashy animals of the world but finding the beauty in the small critters is just as important in my opinion.
What is your favorite science or nature fact?
Humans and giraffes have the same number of neck vertebrae, seven.
Fun/interesting fact about yourself?
I flew a plane before driving a car.