Meet our staff! Walking Mountains staff is full of brilliant, interesting and funny individuals. We want the community that might not have a chance to work with them or participate in their program to get to know our staff. Trust us-- our staff makes all the difference! Join us Fridays for a new blog post. Click the tag at the bottom for more spotlights!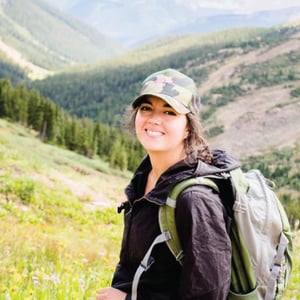 Staff Spotlight: Tess Allen
What is your position at Walking Mountains? What is your primary responsibility?
As the Development Coordinator, I manage the donor database and provide support for our fundraising efforts, including Colorado Gives Day and our annual gala, A Taste of Nature.
How long have you been at Walking Mountains?
I started in August 2017
How long have you lived in Eagle County? Where did you live before?
I am an Eagle County native. I've also lived in Fort Collins, Boulder, and Spain. I moved back to this area in 2015.
What inspires you, in regards to your job?
This David Attenborough quote sums up my motivation to spread our mission of sustainability and science education. "No one will protect what they don't care about, and no one will care about what they have never experienced."
Do you have a favorite program or event that WMSC hosts? Why do you enjoy that program?
Don't make me pick a favorite! I grew up attending our field science programs which helped me gain an appreciation for this beautiful place we are so lucky to call home. I've been so inspired by our zero waste events and love that we are educating others how to divert waste from the landfill. I also love attending the Sustainable Film Series as well as our High Country Speaker Series.
Where else in the community do you work or volunteer?
I've worn many different hats at Colorado Mountain College since 2015 including tutor and teacher assistant. I've been a mentor for local youth through SOS Outreach since 2015, and I participated in the Family Leadership Training Institute of Eagle County in 2018. I also volunteer with The Literacy Project and facilitate a bilingual conversation group called Intercambio.
What is your favorite way to spend time in the outdoors?
I like to ski, snowshoe, hike, camp, fish, and enjoy the sunset!
What is your favorite food?
Fruit! And ice cream.
What is your favorite animal?
I love seeing our local elk herds in the winter!
What is your favorite science or nature fact?
Aspen trees are fascinating. The bark can photosynthesize and has medicinal properties. They are connected through their root system. New trees in a grove can be thought of as clones of the original tree, so the whole grove is considered one single organism.
Fun/interesting fact about yourself?
I play piano and enjoy collaborating with other musicians.