Going stir crazy at home? Starting to feel like a mad scientist? Join us weekly on Fridays for our Walking Mountains' staff favorite STEM activities. Pick out activities that you can do at home with your elementary and middle school aged students either all at once or pace yourself throughout the week.

Every Friday Megan (Girls in Science Coordinator) and Paul (STEM Curiosity Lab Coordinator) will share a variety of Walking Mountains STEM approved activities covering a variety of topics from growing your own geodes to building a homopolar motor.

As you and your student work your way through various engineering challenges, science experiments, and STEM-focused activities, please share your photos and videos with Walking Mountains Facebook to be featured in our Tuesday
STEM @ Home blog posts and learn what is in store the next Friday!
Show your support for Walking Mountains' STEM @ Home activities: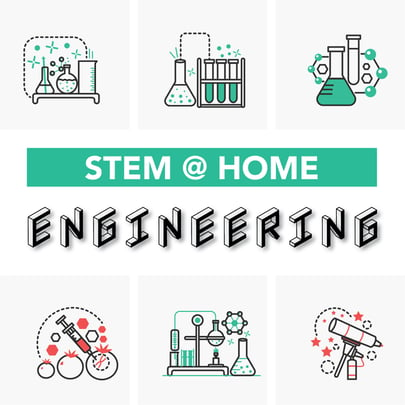 ELEMENTARY RESOURCES
Balloon Rockets - Engineer a way to move a balloon across a room in a straight line with just a straw, tape, and some string!
Newspaper Forts - Learn about the architecturally strongest shape in nature and construction, and in the process build a sweet fort to play in with just 2 things you might have around the house!
See how Megan and Paul's fort exploration went!
Balloon Hovercraft - Build your own hovercraft and see how a cushion of air made by the balloon helps reduce the friction the CD imposes on a flat surface!
Rube Goldberg Machine - Complete a simple task (like feed your pet or flipping a light switch) with a series of complicated synchronized motions! Check out this youtube example for some inspiration.
Physics Challenges - Try out these gravity defying physics challenges! See if you can figure out what physics principles are in play in each of these challenges.
MIDDLE SCHOOL RESOURCES
Stomp Rockets - Become an aerospace engineer by designing and building your very own stomp rockets and rocket launcher! You'll need adult help to build the simple PVC pipe launcher, but creating the rockets and inclinometer to track their height is all you!
Marble roller coaster - Wish you could go to an amusement park? Build your own marble roller coaster! You can add loops, corkscrews, even jumps. These fun roller coasters can be built with fairly cheap pipe insulation and household supplies.
Pasta engineering challenge - Stock up on too much pasta? Try building the strongest tower possible using the least supports possible! Experiment with different designs to see which shapes can support the most weight and discover why triangles are so common in bridges and buildings.
Shake Table - EARTHQUAKE! Can you design a building to withstand an earthquake? Find out with this easy to make shake table. All you need are tennis balls or bouncy balls, rubber bands, and cardboard to make your very own earthquake table!
Floating Ping Pong Ball - Make a ping pong ball float like magic--but with science! Test it with different sized straws or by trying to make other objects float with the power of air.
---
We are only sharing these links/activities with the intent of sharing these resources with our community for purely educational purposes during the prolonged school suspension as a result of COVID-19. We do not own any of the intellectual property that we share.