Going stir crazy at home? Starting to feel like a mad scientist? Join us weekly on Fridays for our Walking Mountains' staff favorite STEM activities. Pick out activities that you can do at home with your elementary and middle school aged students either all at once or pace yourself throughout the week.

Every Friday Megan (Girls in Science Coordinator) and Paul (STEM Curiosity Lab Coordinator) will share a variety of Walking Mountains STEM approved activities covering a variety of topics from growing your own geodes to building a homopolar motor.

As you and your student work your way through various engineering challenges, science experiments, and STEM-focused activities, please share your photos and videos with Walking Mountains Facebook to be featured in our Tuesday
STEM @ Home blog posts and learn what is in store the next Friday!
Show your support for Walking Mountains' STEM @ Home activities: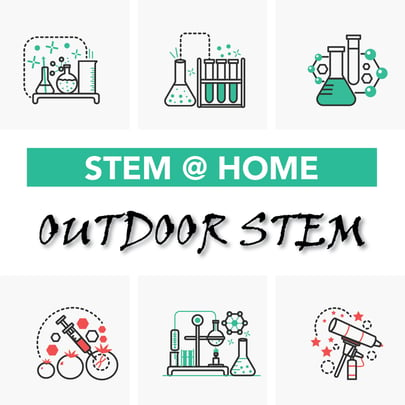 ELEMENTARY RESOURCES
Compost in a Jar - As we prepare for spring time, summer gardens, and growing season in Colorado, while we're in quarantine we can use this time to brew up some fresh and funky compost!
Build an Insect Hotel - Think of an insect house as real estate for bugs! Many urban areas have removed habitats for beneficial insects that help bring balance to our ecosystem, but a simple bug box can bring them back and give them some place to live.
Sound Maps - During this global pandemic, there have been trends in reduced pollutants in the air from less cars on the road and less noise pollution in our communities because everyone is staying in place. Grab a paper and pencil and find somewhere outside to create a map of all the sounds you can now here in your backyard or neighborhood!
Grow a Bean in a Bag - With all this time on our hands, people are growing plants for fun! But what fun is growing a plant if you can see what's happening under the soil? Grow a bean in a bag instead and watch it come to life!
Snow Volcano - Have you (or your kids) been wanting to make a baking soda volcano but your parents (or you) don't want to deal with the mess? Build a volcano in the snow for a fun "mess free" science experiment!
MIDDLE SCHOOL RESOURCES
Wind Power - Using materials around your house, build a wind turbine to experience the power of wind! See how wind power can be transformed to do work or make electricity.
Become a Naturalist - Study the environment around you, share your findings, and discuss with a group of over 1 million online users with iNaturalist!
Build a Sundial - Watch time fly by with your very own sundial. Take advantage of the 300+ sunny days we get each year in Colorado to keep track of time using the sun!
Solar S'mores Oven - Harness the power of the sun by building a passive solar oven that can heat up s'mores or other favorite snacks! See how hot you can get your oven even on a cool spring day, you just need sunshine, a box, aluminum foil, plastic wrap and tape.
Rock and Mineral Hounding - Can you find limestone in your backyard? Limestone reacts with an acid to slowly dissolve, creating some of the magnificent caverns near Fulford and Glenwood. See if you can find chunks of limestone using vinegar to ID!
---
We are only sharing these links/activities with the intent of sharing these resources with our community for purely educational purposes during the prolonged school suspension as a result of COVID-19. We do not own any of the intellectual property that we share.