Going stir crazy at home? Starting to feel like a mad scientist? Join us weekly on Fridays for our Walking Mountains' staff favorite STEM activities. Pick out activities that you can do at home with your elementary and middle school aged students either all at once or pace yourself throughout the week.

Every Friday Megan (Girls in Science Coordinator) and Paul (STEM Curiosity Lab Coordinator) will share a variety of Walking Mountains STEM approved activities covering a variety of topics from growing your own geodes to building a homopolar motor.

As you and your student work your way through various engineering challenges, science experiments, and STEM-focused activities, please share your photos and videos with Walking Mountains Facebook to be featured in our Tuesday
STEM @ Home blog posts and learn what is in store the next Friday!
Show your support for Walking Mountains' STEM @ Home activities: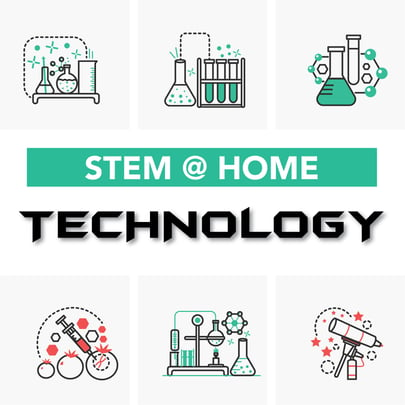 ELEMENTARY RESOURCES
Story Time from Space - Ever wonder what astronauts do for fun in outer space? Sometimes, they record themselves reading their favorite stories for us to enjoy back here on Earth!- Ever wonder what astronauts do for fun in outer space? Sometimes, they record themselves reading their favorite stories for us to enjoy back here on Earth!
Free Online Coding Programs - Coding teaches kids that finding a solution to a problem often involves a logical sequence of steps or actions, check out these free and fun online resources that teach kids how to code!
Virtual Tours - With the help of some really cool technology (virtual reality, the internet, videos) we can check out museums and other places that showcase all kinds of technology like airplanes, aquariums, and planetariums.
LINK TO ACTIVITY 1 - Museum of Flight
LINK TO ACTIVITY 2 - National Aquarium Tour
LINK TO ACTIVITY 3 - Virtual Planetarium
Heart Pump Model - Ever wonder how something works, like for example, your heart? But obviously you can't just take out your heart and look at it. So sometimes, in order to understand something we can't see, scientists build models to look at how something works! In this activity, build a model of how a heart pumps blood!
Build an Articulated Grabber - Technology is not always computers, gadgets, and gizmos… sometimes, it involves a little engineering to design a tool or thing that will help make a job or task a little easier!
MIDDLE SCHOOL RESOURCES
Rube Goldberg - Build your very own Rube Goldberg machine, like those from the game Mouse Trap. The only limit to your machine's complexity is your own imagination and time!
3D Design - Discover the never-ending fun of Computer Aided Design, or CAD, to create 3D models on your computer that you can then build with a 3D printer! Once you've created an account, go to "Learn" at the top right to see numerous activities and fun ways to get involved in 3D design.
Stop Motion Video - Learn how to make fun and engaging stop-motion movies!
Scratch - Create games and animations you can share with anyone while learning basic-intermediate coding!
NASA! - Whether you're a budding astronaut or just like rockets, NASA has fantastic resources and fun at home activities organized by grade level. You can choose your own adventure as you shoot for the moon!
---
We are only sharing these links/activities with the intent of sharing these resources with our community for purely educational purposes during the prolonged school suspension as a result of COVID-19. We do not own any of the intellectual property that we share.