Walking Mountains summer science camp is full of dynamic learning opportunities. We educators use science and nature together to awaken a sense of wonder and inspire stewardship of the natural world, but often only get to spend a week with your camper. It is well established that children who spend time outdoors with adult mentors become more connected with nature and continue stewardship into adulthood (Chawla, 2009). So how can you keep the learning going after camp is over?
Model and verbalize thoughtful behavior towards other people
Kids like to hear the driving force behind your actions. The simple act of picking up that corner of a granola bar wrapper can have a big impact on a young mind. But did you pick it up because your magpie soul liked the shiny silver, or so that a resident golden-mantled ground squirrel wouldn't mistake it for food?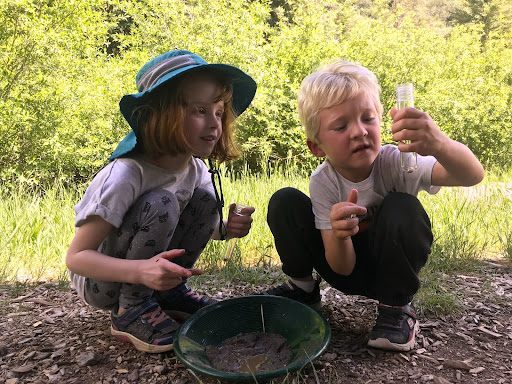 Two summer campers look closely at the minerals they collected after "panning for gold" during Volcanoes, Caves, and Canyons summer camp.
Walking Mountains educators strive to model and verbalize thoughtful behavior towards other people and the more-than-human world that we explore during camp. Thoughtful behavior comes in many forms and varies depending on where your strongest values lie. It might mean explaining why we can go off-trail in some places but not others. It might mean wondering aloud what life is like for a tree. It might mean verbalizing why you chose to pick one flower instead of three. Hopefully, it means teaching every child how to open a wrapper without tearing off the corner that inevitably falls to the ground to be found by you, a magpie, or a golden-mantled ground squirrel. Whatever your values are, try sharing a short and sweet explanation of why you do what you do
H

elp your child learn how to make smart choices by talking them through together

Does watching your child discover the world make you feel elated but also give you heart palpitations? Exploring in nature builds myriad skills, including recognizing appropriate risks. Help your child learn how to make smart choices by talking them through together. If you walk past a summer camp group at Walking Mountains, you might overhear an educator saying something like, "I notice that log rolled when you touched it. Do you think it's a good idea to jump on it?" Using "I notice" statements to express your concern opens up a lot of options for the child to ameliorate your concern. They could choose to not play on the log, to build a new game around rolling the log, or to stabilize the log and keep jumping on it. When they make a good choice, let them know! The educators here might sound like broken records saying, "Thank you for safely dragging that stick behind you instead of swinging it around," but it's always well received by campers.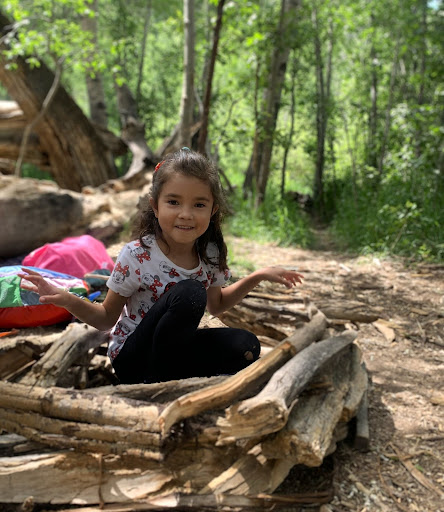 A summer camper perches like a bird in the life-size nest she and her camp group built from sticks in one of the many outdoor classroom spaces at Walking Mountains.
Enjoy free play in nature
Children thrive on free play in nature. Every summer science camp at Walking Mountains provides time for campers to engage with the landscape on their own terms, whether that means pretending to be a family of foxes, watching a bird preen on a branch, or sitting under a tree with a friend to work through the latest middle school drama. This time is successful because educators set boundaries, encourage thoughtful behavior, and help campers make safe choices during free play.
Take a tour of the Walking Mountains Science Center campus
Guided by your excited camper! Invite the opportunity to explore campus through a child's eyes. Where you see a tangle of branches, they see fort-building materials. That beautiful juniper you were admiring is the perfect hiding spot during a game of Camouflage. And did you know that there are snail shells everywhere around here? There's a lot to love at Walking Mountains Science Center.
Spend time in nature together
Spending time in nature together will benefit your child's and your emotional, cognitive, and physical health; nature will benefit from the relationship you form and the love you carry with you beyond Walking Mountains. With a little practice, these tricks will help you and your child have fun together, wherever you explore!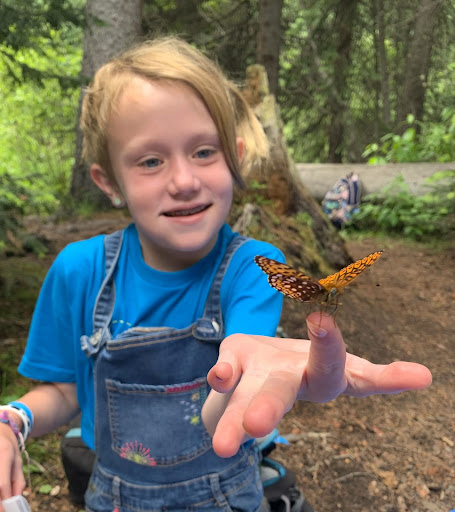 A 3rd grader in Surviving the Wild summer camp smiles while holding a butterfly on her finger.