Winter certainly didn't waste any time in coming to our mountains this year! As we turn our calendars to November, many of us have already ventured into the backcountry on our skis or snowshoes. Many of our favorite summer trails double as excellent snowshoeing, Nordic skiing, or backcountry ski access trails. However, a few of our local trails close for the winter season. These winter closures protect key habitat for wildlife during the stressful winter months through elk calving season in the spring and early summer.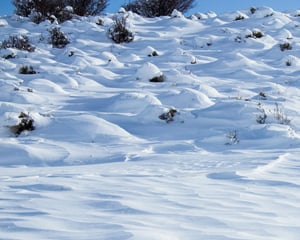 As human powered recreators we often see our outdoor pursuits as low impact. However, even just our presence can be a stressor to wildlife. Recent studies have shown that when human impact from roads, development, and yes—even hiking trails, stress wildlife, animals may become more nocturnal in order to avoid human contact. For species who have adapted over thousands of years to certain patterns of activity, changes in this behavior can put prey species more at risk of predation, or it make it more challenging for our local predators to hunt. These stresses don't just impact smaller prey species. Some of the more charismatic wildlife, many of which are apex predators in our ecosystems, have exhibited some of these same tendencies. The winter months present an additional stress—cold and scarce food. In this most challenging of seasons, energy preservation is key. If wildlife feels threatened or stressed this can significantly decrease their odds of survival—especially for younger animals.
With the nearly endless options for winter recreation, we at Walking Mountains, ask for your help protecting these areas and staying off seasonally closed trails. Local trails with upcoming winter closures are listed below—for a complete list, including spring closures, visit Walking Mountains trail closures landing page https://hub.walkingmountains.org/vail-valley-eagle-county-seasonal-trail-closures.
West Avon Preserve Trails (except Our Backyard & PB&J): December 15
Trail System between Avon & Edwards
Knob Hill (USFS #2021): December 15
Connects Single Tree to June Creek Trail
Whiskey Creek Trail (USFS #2349): November 23
Connects Meadow Mountain & Evercrisp Trails
Everkrisp Trail (USFS)
Connects Eagle Vail Trail to Meadow Mountain
Minturn Mini Mile: December 1
Short single track on the south end of the Minturn
Eastern Hillside (USFS #2347): December 1
East side of Beaver Creek Ski area adjacent to the Village Loop