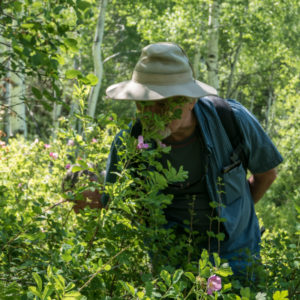 Join Walking Mountains Science Center and local Forest Therapy guides for a relaxing and reinvigorating afternoon of making connections and diving in to our senses and natural surroundings. Forest Therapy, also known as forest bathing or Shinrin-Yoku in Japan, has been around since the early 1980's but it is just now gaining mainstream traction joining the likes of the health, wellness, local food, or yoga movements. Those of us that live in this gorgeous natural environment inherently feel the benefits of spending time outdoors. More and more however, empirical research is showing the physiological and mental health benefits from taking a directed and therapeutic approach to spending time outdoors.
Local Forest Therapy Guides Kayla Weber and Jane West have a combined teaching experience that spans decades and are looking forward to bringing Forest Therapy to constituents of Walking Mountains' hiking programs because of the natural alignment in mission and purpose. "The difference between natural science education and the practice of Forest Therapy is that the relationships to the land are created and strengthened in different ways," says Weber who once worked for Walking Mountains as a naturalist. "Forest Therapy uses more experience, feeling, and emotional connection while natural science education engages the mind," continues Weber when asked about the similarities or differences between Walking Mountains' mission and Forest Therapy.

When asked the best part about being a Forest Therapy guide, West answers, "I love to watch people unwind from their fast-paced lives and become full of wonder again so easily so quickly! The smiles on their faces as the walk ends are also so uplifting. I also slow down and feel so peaceful during the walks and get to have great moments of connection with trees and rocks and rivers —even as a leader."

So come join Walking Mountains and local experts and your fellow community members for a relaxing afternoon of making new personal connections. Or, join to reignite your passion and appreciation for local environments, appreciating the small and slow moving aspects of our world that are drowned out during the everyday hustle and bustle..

*This event took place in 2018*