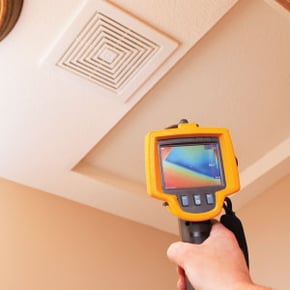 Have you ever wondered how something works or how something was made? In the monthly Science Behind series, we partner with a guest presenter to explore a large variety of interesting topics. The Science Behind series offers opportunities for adults to apply new knowledge and skills to everyday life, while having fun!
** This Science Behind event took place in November, 2014 **
Staying Warm & Comfortable In Your Home while Saving Money & Energy
Wondering how to stay warm and comfortable in your home this winter without breaking the bank? Join Walking Mountains Science Center for "The Science Behind Your Home" on Wednesday, November 12th, 2014 from 6:30-8:00pm to find out more about how your home works and the science behind it. You will learn that there are a lot of systems in your home that all work together to keep you comfortable, and that you could be wasting precious energy and money!
Megan Gilman of Active Energies and John-Ryan Lockman of Energy Smart Colorado will present this interactive learning workshop where homeowners will be able to ask questions and interact with local experts in the field of "Building Science". There will be interactive teaching tools on-site to demonstrate things such as:
• Why are my heating bills so expensive?
• What are those "ice dams" forming on my roof?
• Can I get solar on my roof and how does it work?
• What are these LED's all about and should I make the switch?
• What is Radon? And how can I test for it?
You will learn how all the different elements in your home such as windows, boilers, furnaces, and insulation all work together to keep you warm and how to become an energy detective in your own home. Participants of this class will learn about all local/regional incentives and important first steps to implement both renewable and efficiency improvement projects. Attendees will also be able to sign up for a home energy assessment for a special discounted rate at the event.
The Science Behind series of classes highlights useful and fun skills that have underlying scientific principles. Each class provides a hands-on, interactive component with instruction from a local subject matter expert and a Walking Mountains educator. Classes are held once a month at Walking Mountains Science Center in Avon. This community series is generously underwritten by Vail Honeywagon, Inc.
Space is limited, please call Walking Mountains at 970-827-9725 to reserve your seat.

If You Go...
What: The Science Behind Your Home
When: Wednesday, November 12th, 6:30pm
Where: Walking Mountains Science Center, Avon
Cost: FREE