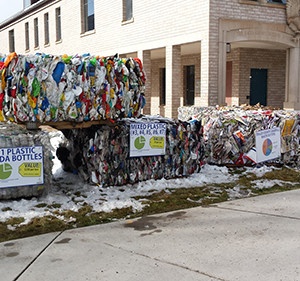 Out with the old and in with new! That is the motto of the moment as we approach the end of another year. After the winter holidays pass, it seems only natural for many of us to contemplate the opportunities of a fresh start as our Gregorian calendar transforms to accommodate the turning of a year. Another sweep around the sun complete and suddenly that holiday wish list morphs into a bucket list of resolutions. Perhaps this year they could be green sustainability resolutions?
For many people today, it is customary to proclaim resolutions of self-betterment, such as resolving to save more money or lose that holiday weight, quit smoking or learn a new skill. These are all fantastic goals and some of the most common resolutions made, but wouldn't you know it, they are also the most common ones broken before spring even arrives! Instead of continuing a cycle of failed attempts, why not reinvigorate our resolutions to give them more meaning, enticing us to follow through with them? What if our resolutions had the power to not only improve our own lives, but also the lives of our entire global community? This year, why not resolve to become a new sustainable you!
Sustainability refers to the capacity to endure or develop in a way that will not threaten the existence of others now or in the future. It is how systems remain diverse and productive indefinitely. So while many are quick to lump sustainability in with hot button environmental issues such as climate change and energy conservation, it is actually a concept that transcends to a multitude of issues within areas of social justice, fair trade, education, business ethics, and economic growth. To resolve to be more sustainable is, in actuality, a resolution to create lasting change to allow for ourselves and our global community to remain intact. During the Holiday season, household waste increases by approximately 25 percent, adding about 1 million more tons to our landfills. An estimated 8,000 tons of wrapping paper and 2.6 billion cards are sold each holiday season with most ending up in the trash. At least 28 billion pounds of edible food is thrown away. This amount of waste contradicts the reason for the season, so why not try something new this year and lower your personal impact?
1. Try the 1 trash bag a month challenge
Resolve to try reducing your trash a little bit at a time by assigning each member of your home their own trash bag for the month. This challenge will make your family members more aware of what they are throwing away and encourage better practices. Some questions to ask yourself when participating in this challenge are: Can I reuse this? Can it be recycled? Can I purchase this item with less packaging? Each month, remove one trash bag from the mix and see if you can ultimately reduce to 1 total trash bag a month!

2. Eat more organic, locally produced food
When it comes to diet, your choices matter. Is it plant-based or animal-based? Is it organically made and where did it come from geographically? When we eat local, we're eating food made within our political realm and have more control over how that food is made and also lower our impact on the environment because we know the food was produced close to home. When we eat organic, we are ensuring that our food was grown without chemicals or hormones and that our soil, water and air haven't been contaminated with toxic fertilizers or pesticides. If you have questions, you can use Walking Mountains' Sustainable Food Map as a guide to sustainably produced food in our region.

3. Change your lights to LEDs
Lighting in homes accounts for about 10 percent of total electricity use. LED light bulbs use 80 percent less energy than traditional incandescent bulbs, and last about 50 times longer. This is a resolution that won't just lower your environmental impact, but will also increase the bulge in your wallet. If you are switching bulbs in your home, be sure to contact Energy Smart at Walking Mountains to ask about rebates (available after a home energy assessment). You can even trade in those old, incandescent holiday lights and get a rebate through Holy Cross Energy as they also have rebates available for new LED holiday lights!

4. Become a mindful consumer of goods
To become a mindful consumer, you simply need to be conscious about what you decide to purchase and ask yourself some questions. Do you really need it? Can your old stuff be repaired? How is the item being packaged? If you want a new wardrobe, consider the company you wish to buy from; do they outsource their work, how far did the garment travel to get to you, were chemicals used in the production? Consider purchasing from consignment or thrift stores. Why not coordinate a clothing swap in your community? Do your research and seek out organic, recyclable products and businesses dedicated to sustainability. Remember that every time you make a purchase, you are casting a vote for the future.
5. Start a carpool or bike commuter group
As Americans, we sure do love our cars, but travel results in a huge majority of fossil fuel use and carbon emissions. Consider starting a carpool or bike commuting group. Perhaps you could schedule one day a month carpool events through work and slowly increase the days the carpool is offered. Challenge your colleagues and friends with friendly car-less competitions. Consider signing up for Vail's Sole Power Green Commuting Challenge this spring. This is also a wonderful way to connect with your community.
6. Install a water filtration system
More than 60 million plastic bottles end up in landfills every day. In Eagle County, our public water is supplied by natural sources within our watershed (lakes, groundwater, rivers), and is treated by the Eagle River Water and Sanitation District's treatment plants to ensure it is safe for us to use. However, many people worry that this water is not clean enough and may contain trace amounts of metals or other chemicals that are being piped into our homes. These fears cause many people to resort to bottled water, but in most cases, bottled water has not been found to be any better than tap water, so if you truly wish to make sure the water you are drinking is as pure as possible, install a water filtration system in your home.
7. Start a garden
In Eagle County, there are plenty of ways to get into gardening. Many neighborhoods have community garden spaces where you can sign up for a plot. Though the growing season in the mountains is short, there are plenty of goodies that grow well up here, such as gourds, root vegetables and leafy greens, so you will be able to greatly reduce your grocery shopping list! Gardening can open the door to many other valuable, self-sufficient skill sets too, such as composting and food preservation techniques. Don't have time for a veggie garden? Why not start some small planters of herbs inside? Growing your own food is a creative skill that you will reap constant rewards from.
8. Perform a home energy assessment
The first step in lasting change is assessing where you are, determining your baseline can help you realize what to focus on when making improvements. If you want your home to operate more sustainably, learn about how it uses energy. Energy Smart at Walking Mountains can help with this by offering low-cost, home energy assessments, energy coaching, resources and access to rebates. With our new income qualified program, qualified participants can receive a home energy assessment free of charge. Find out how to best program your thermostat. Learn the value of your home's insulation. Find out if your water heater is efficient. All this knowledge put into action will help you save a lot on future utility bills.
9. Put aside time to educate yourself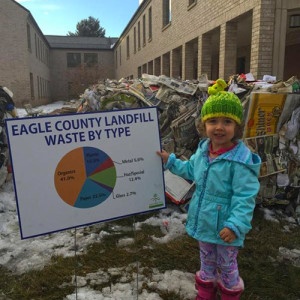 The truth is, there are plenty of things you can do to become sustainable, but it ultimately comes down to you. You are the only one capable of creating lasting change and change takes time. If you don't think you can commit to a lifestyle changing resolution this year, why not resolve instead to educate yourself? The Walking Mountains' Sustainable Film Series raises awareness and encourages community dialogue about environmental and socio-economic issues afflicting our world through award-winning independent featured films. You can catch these films the first Tuesday of every month at Loaded Joe's in Avon and the third Tuesday of the month at the Dusty Boot in Eagle. Visit www.walkingmountains.org and click on the Conserve tab to learn more about how your Walking Mountains Science Center can guide you along on your personal, sustainable journey this New Year!
Visit Walking Mountains' Sustainability Efforts page.
Nicole Abrams is the Girls in Science Coordinator at Walking Mountains Science Center. She loves fostering a sense of place in the natural world with the young ladies she mentors, inspiring them towards more sustainable habits.