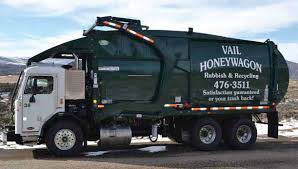 Have you ever wondered how something works or how something was made? In the monthly Science Behind series, we partner with a guest presenter to explore a large variety of interesting topics. The Science Behind series offers opportunities for adults to apply new knowledge and skills to everyday life, while having fun!
** This Science Behind event took place in April, 2016 **
The Science Behind Recycling, Landfills & Waste Diversion
Have you ever wondered what happens to your recycled items after you leave them at the curb or drop them off at a recycling drop-site? Want to find out? Without knowing what happens next, it is hard to truly understand the impact you are making by decreasing your waste sent to the landfill.
Become part of the increasing movement to be educated and in turn educate others about the importance of waste diversion. Join Walking Mountains Science Center and Vail Honeywagon on Wednesday, April 20th from 6:30 to 8:30pm as we explore the Science Behind Recycling.
What is the difference between comingled, single stream, and dual stream recycling? What do those numbers on the bottom of your plastic containers mean and how are they made and recycled differently? What can you do to reduce your waste and repurpose everyday materials? All of these questions and many more will be answered during an interactive, hands-on presentation by Walking Mountain's Sustainability Programs Coordinator Melissa Kirr and Shawn Bruckman, Sustainability Director of Vail Honeywagon.
Want to see the whole process in action? Join us for a FREE guided tour of the Eagle County Materials Recovery & Household Hazardous Waste Facilities on Thursday, April 21st 10:00-11:30am. These facilities are designed to process for market the recycled materials collected in Eagle County and adjoining jurisdictions. Having this facility in place and operational removes the barrier to our local recycling programs of distance-to-market. Collected materials are separated, baled and readied for direct shipment to end users. The facility utilizes both mechanized and manual sorting techniques to separate all recycled materials.
Vail Honeywagon's recycling program is the result of the community's commitment to the environment. By recycling, together we are doing our part to save natural resources, conserve landfill space, and save energy. As the Sustainability Director, Shawn Bruckman works to promote and expand recycling, composting, and e-waste efforts at Honeywagon. Shawn holds a bachelor's degree in environmental policy from Michigan State University. Her experience as the owner and founder of Ground Up, compost coordinator for a local resort, president of the Eagle-Vail Community Gardens and a composting educator for the former Eagle Valley Alliance for Sustainability are wonderful assets as Vail Honeywagon expands it citizen outreach and composting and recycling solutions.
Melissa Kirr has a passion for the environment and loves sharing it through the efforts of Walking Mountains. She has lived in Colorado's Central Rocky Mountains for over 10 years. She holds an A.S. in Forest Technology from Penn State University, Mont Alto campus and a B.S. in Forest Resource Management from University of Montana in Missoula. By joining Walking Mountains during the folding in of Eagle Valley Alliance of Sustainability; Melissa has been able to continue her work on Zero Waste projects, Sustainable Businesses, and the Community Sustainable Film Series.

IF YOU GO:
Date: Wednesday, April 20, 2016 | 6:30pm-8:30pm
Where: Walking Mountains Science Center, Avon
How Much: FREE, $5 donation suggested, reservations required.
The Science Behind Series is made possible by Vail Honeywagon