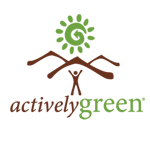 Actively Green Ambassador: A spotlight that celebrates a local person who works for an Actively Green 2018 participating sustainable business. The goal is to recognize local "green/sustainable" businesses while building awareness and participation in sustainability more broadly throughout the Vail Valley.
Kristen Hartel, former Project Manager for Active Energies, helped Active Energies become Actively Green certified in 2014. We asked Kristen about her experience and she shared some thoughts and insights about the program. Enjoy!
Walking Mountains Science Center (WMSC): What is your favorite green practice?


Kristen Hartel (KH): My favorite green practice at work is finding creative and innovative ways to reuse or recycle materials like electrical wiring, conduit, metals, batteries, and other industrial products that cannot be recycled at local facilities. Active Energies now recycles metals at the metal recycling center in Wolcott, which diverts waste from landfills and creates income.
WMSC: What is the impact of Actively Green on Active Energies?
KH: Actively Green is helping Active Energies engage with the community because, as one of the first Actively Green certified businesses in the Eagle Valley, we have worked with and supported other businesses through the certification. We've particularly been able to help other non-tourism companies and companies that rent their office space (rather than own).
The biggest impact of Actively Green is tracking. Before reducing environmental impact, businesses have to know what they are consuming and producing. In other words, you can't save what you don't track. Actively Green certification is also a tool to educate employees to be more conservation-oriented and show cost savings by tracking and making changes.
WMSC: What are some of the rewarding benefits of the program?
KH: The most rewarding part about being involved with Actively Green is making a difference in our small community. Actively Green is helping to make tourism more sustainable. People who visit from around the world can see and experience our sustainability practices and be inspired to carry the message back to their cities and countries. This program is a way of setting a good example and spreading ideas.
WMSC: What tips can you offer businesses who are interested?
KH: My Actively Green tip for businesses is to get excited! It's valuable to track and understand your impact. As a business manager, the program allows me to see cost savings along with environmental benefits. You can make your employees happier and implement better practices and upgrades.
WMSC: What is your vision for the future and what inspires you?
KH: My vision for Eagle County is better access to local food and business relationships. I would love to see commercial and residential composting facilities along with improved waste diversion options. I am inspired to be Actively Green because it shows a shift in this resort community's priorities to not only profits, but environmental protection as well. It's great to see the bigger industries adopting a local program and making education a priority.
The Actively Green Sustainable Business Certification program is a community driven partnership supported by Eagle County, Town of Vail, Sustainable Travel International and Walking Mountains Science Center. To get involved go to: www.walkingmountains.com/ag.