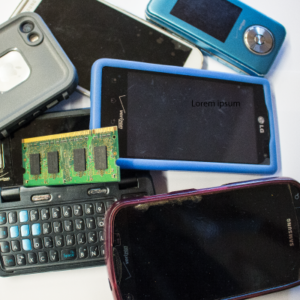 In the United States alone, approximately 64% of people own a smartphone, according to the Pew Research Center. Out of that, 46% say that their smartphone is something they "couldn't live without." Just the other day, I came to work without my phone and was immediately overwhelmed by negative thoughts about how not having my phone with me would affect my day. Never before has a "thing" caused me so much unnecessary anxiety and this was inspiration enough for me to take a closer look at smartphones with the intention of bringing to light the true cost of these popular consumer products.'
Tungsten, Tin, Tantalum, and Gold are the main minerals used in the creation of smartphones. These minerals are often referred to as "conflict minerals," because they are mined in areas, such as the Democratic Republic of Congo, where armed conflict and human rights abuses are common. Children are forced in to slave labor in these regions for the mining of these minerals, which are purchased by middlemen and sold to major electronics manufacturers These operations cause irreparable environmental damage that parallels the human suffering taking place and the overall economy of these areas has not benefitted (Journey of a Cell Phone).
Putting it All Together
After the necessary resources have been extracted, they go on to be processed. The touchscreen and glass cover are manufactured by Corning Incorporated and although Corning has taken strides to make their manufacturing techniques more sustainable, the sheer demand for the next, newest smartphone generates an overwhelming need for energy and water. According to a report by Friends of the Earth, it takes approximately 13 tons of water to create a single smartphone and around 2 billion smartphones were sold in 2016 alone. The smartphone camera is manufactured by Infineon Technologies, a German-based company with production locations in Europe, Asia and North America. They use lanthanum in the construction of the camera's lenses, which the Handbook of Inorganic Compounds describes as a rare Earth metal that is difficult and expensive to mine.
Once components are manufactured, the next step in production is assembly. Over half of our smartphones are assembled in China and the biggest reason why is simply because the United States doesn't have enough people to support the massive production of these products (Android Authority). Labor is also cheaper and faster and Chinese factories are more flexible with their production processes. This is not a good thing for the Chinese labor force, which is made up of mostly teenagers who will work approximately 15 hours a day while being exposed to a plethora of toxic chemicals, including benzene, which has caused people to develop occupational-leukemia and mental illness, leading to mass suicides of factory workers. Despite these facts, minimal changes have taken place to improve the working conditions and labor practices of these factories (News.Mic).
From extraction to production, it's clear that the external costs greatly outweigh the average private costs of smartphones making them expensive products to consume, especially when considering its end-of-life impacts. In the United States alone, approximately 3.3 million tons of electronic waste is produced every year and most is shipped overseas. Near China's largest electronic waste dump in Guiyu, "residents exhibit substantial digestive, neurological, respiratory and bone problems," due to the burning of this waste, according to the Population Reference Bureau. This is the reason why we do not notice the enormously negative impact of these products, because we are just so far removed from it.
Changing the Story
We already know our smartphones have negative impacts on our social-emotional and mental well-being, and now we know they also have negative environmental and human rights impacts. But it is possible to change the story. Putting limits on how much we use these devices will help lower our dependence on them and increase their life expectancy. Consider repairing your old phone rather than purchasing a new one and if you need to dispose of it, do it responsibly. In 2013, a bill was passed prohibiting the disposal of electronic waste in Colorado landfills. In Eagle County, you can recycle your smartphones as electronic waste at the Eagle County Household Hazardous Waste Facility, located at the landfill, for a small fee. Walking Mountains Science Center will also host an electronic waste collection at Colorado Mountain College on April 21st from 9am-12pm. Come on out to learn more about how you can be part of the solution to the mobile device dilemma.
Nicole Abrams is the Girls in Science Coordinator at Walking Mountains Science Center. She loves fostering a sense of place in the natural world with the young ladies she mentors, inspiring them towards science-loving, sustainable lifestyles.