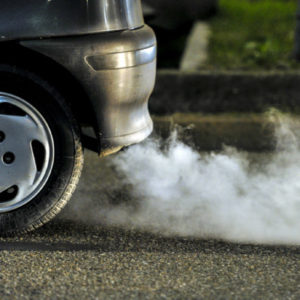 Have you ever found yourself sitting in your car waiting to pick up a friend or letting your car warm up, engine running, heat cranked and music blasting? We've all been in a situation where we've sat in our cars with our engines on, without a passing thought for the impact were having on our wallets, our cars, and our communities.
There are a lot of rumors on why leaving your engine running while the car is stationary is the right move to make. For example, there is an age old argument that says turning your car on several minutes before you drive on a cold day actually prevents engine damage. This 'word on the street', however, does not align with the facts. Idling costs you money by wasteful use of gas, is damaging to your engine, and produces unnecessary air pollution which increases the threat of climate change in your local community.
So here are the facts. According to Idle Free California, idling your engine for more than 10 seconds uses more fuel and emits more CO2 than restarting your engine. If you let your engine idle longer than 30 seconds, you start to damage your engine as carbon soot builds up, motor oil breaks down, and starters and batteries get excessive wear. When it comes to idling on a cold day, Idle Free California suggests completely avoiding stationary car-warm ups if it's above freezing, and limiting warm up to 30 seconds if the weather is below freezing, or until the windshield defrost is adequate to drive. Any stationary warm-ups beyond this produce more harm than good in terms of air pollution, engine damage, and a waste of gasoline. Some auto manufacturers have even started including limited warm-up recommendations in their owners' manuals, stating that excessive idling places the vehicle under a Severe Duty maintenance schedule, which costs the car owner more than normal car maintenance. (IdleFreeCalifornia)
Complacency about idling leads to some negative side effects that could have been easily prevented. When you sit idle, you waste gas to keep your car on while it's not moving anywhere. That gas you paid good money for is yielding 0 mpg, which is not the most efficient use of gasoline. Additionally, as we all know, cars are not cheap and avoiding engine wear from excess idling is a great means of no-cost preventative maintenance. Lastly, cutting back engine idle time reduces your environmental footprint. About 19 pounds of CO2 is emitted per gallon of gasoline while an engine is sitting idle (EPA Equivalency calc). This is unnecessary pollution from an activity that doesn't yield any positive returns.
Eagle County has a Climate Action Plan which aims to address greenhouse gas (GHG) emissions in our community. The unnecessary pollution generated through idling hurts our community's goal to reduce GHG emissions from transportation 25% by 2025. A simple, meaningful way to do your part in addressing climate change at a local level is to simply turn off your engines when your car's not in use. The Natural Resources Department of Canada estimates that if each resident reduced their idling 3 min each day of the year, it would reduce CO2 emissions by 1.4 million tons annually, which is the equivalent of removing 320,000 cars off the road. That's a huge collective impact for a small everyday action!
Next time you find yourself in a car that's sitting idle with the engine running, do your part and shut off the car. If it's a car that does not belong to you, do your friends or family a favor and let them know they are hurting their car and wasting precious gasoline to keep their engines on. Together we can stop unnecessary idling in this Valley and move towards a cleaner, idle free future!


Kimberly Schlaepfer is the Climate Action Collaborative Project Manager for Eagle County. Kimberly works daily to ensure implementation of the goals written out in the Climate Action Plan.
Sources:
http://idlefreecalifornia.org/idle-free-tips.html
http://www.nrcan.gc.ca/energy/efficiency/communities-infrastructure/transportation/cars-light-trucks/idling/4415
https://www.epa.gov/energy/greenhouse-gas-equivalencies-calculator