Are you curious about these newer technologies that the Energy Programs team at Walking Mountains has been telling folks about? Below is a simple explanation on cold climate air source heat pumps, heat pump water heaters, and induction cooktops. These descriptions can help you determine if any of these applications may be right for you as you consider making improvements in your home or business. And, keep in mind that the Energy Smart Colorado program locally is offering some extra incentives this year to help with these items, above and beyond the regular rebates available. We want you to start thinking beyond simply saving money on your utility bills to thinking about making a positive contribution to our local climate reduction goals. In order to make big impacts in the built environment, we need to think big.
ccASHP (cold climate air source heat pump):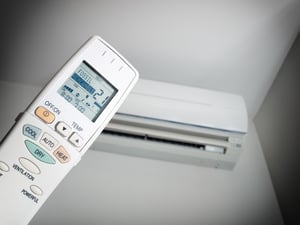 All-electric, high-performance, cold climate air source heat pumps (ccASHP) are a super-efficient clean energy alternative from other heat sources & equipment, which work in our high mountain cold climate environment. They are an effective and popular technology for decarbonizing heating (and cooling) in buildings & homes, as we move towards more all-electric sources. With the energy supply on our electric grid becoming cleaner from more renewable energy, making properties all-electric allows for a larger carbon reduction (especially if moving it from previously having a gas energy source), meaning bigger impacts towards reaching our local climate action goals and reducing our carbon impact. Installing ccASHPs may also improve the comfort in homes and buildings, because it can have many zones that are controlled for how you are using the space at that time. And, yes, you can save on your energy bills!
If sized right, used properly, and installed per manufacturer's specifications, while being installed in buildings with an excellent thermal envelope, this technology will consume less energy (the cost of this consumption change will depend on the cost of the other fuel you are switching from). When switching from electric baseboard heat (resistant) to a ccASHP you could save over 30% in consumption costs, meaning a ccASHP is 3x as efficient as an electric resistance baseboard unit. This technology has become very developed and is available to meet the needs of all shapes and sizes of homes and buildings. It can be used with ductless wall-mounted indoor units, ductless recessed ceiling cassettes, or even with air handlers with ducts; and it can be retrofitted in existing buildings as well as implemented in new construction. If you are looking to reduce your home or building carbon impact, this is an improvement that will make great strides in doing that!
HPWH (heat pump water heater):
Not only can an electric heat pump work to heat homes and buildings, it can also be used to heat water in that home or building. And, you guessed it, a heat pump water heater (HPWH) is one of the most efficient ways to heat your water. These products are readily available on the market today. In fact, you may find them at your local appliance store, or from your neighborhood plumber, and often, they are brands you recognize and have become accustomed to trusting. In our cold climate a hybrid HPWH is often chosen, which simply allows you to choose whether it is operating in heat pump mode, or regular resistance heating mode.
There is much versatility to these HPWHs. It should also be installed and sized per manufacturer's specification, in a large enough space to use the air in that room, or by ducting it to the outside. If placed in an indoor room, when the heat pump is working it will take air including heat from that space and expel cool air, so often in cold climates these are placed in garages, or ducted to the outside (we don't want it stealing our heat or cooling down our homes in the winter!).
Induction Cooktop: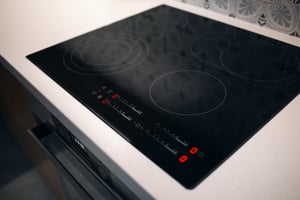 Many people love cooking with gas, but, as we have already discussed, in order to make a bigger impact in reducing the carbon impact of our homes and buildings, we must consider using all electric sources. To create a cooking experience that is better than traditional flat electric cooktops or coils, consider induction. Induction Cooktops are available at local stores and you can find them online. Compared to traditional electric or gas ranges, induction cooking is much more energy efficient. That is because about 90% of every dollar used when the cooktop is on goes directly into heating the pan. In comparison, gas delivers about 55% of the energy used to the pan, and traditional electric ones deliver about 65%. In addition, when the pan is removed from the cooking surface, the cooktop automatically goes into standby mode and cools which is saving even more energy. Other benefits of induction cooktops are that cooking on one is faster, cooler, cleaner, and safer. These induction cooktops have no radiant heat source, red hot coils, or open flames. These induction models do cost more upfront than traditional models, and you need to use the proper cookware, which is another up front investment. However, in the long run the savings to operate and other benefits far outweigh this.
These technologies all cost more upfront to have, but have also proven to use less energy, and thus, reduce the operating costs of the building and homes. And, Walking Mountains has increased rebates to help you offset these initial costs, as do many utilities.