Towards a Resilient, Non-Silent Spring
Although it is hard to believe, soon the snow will be melting and the spring and summer seasons will be upon us here in the Eagle Valley. Grasses will be visible again and many of us will be thinking about how best to approach the beautification of our local landscapes. This article will ask you to consider a few exciting opportunities that can align your spring and summer landscaping activities with sustainability efforts. By doing this, your individual impacts will join with those of others and, collectively, we'll get closer to reaching the goals embedded in the Climate Action Collaborative; to reduce carbon pollution in the Eagle Valley 25% by 2025 and 80% by 2050. Whether fruit and vegetable gardening, managing your landscaping business, planting wildflowers, or figuring out how to be frugal with your water usage during the hot days to come, this article can get you started.
There are many ways by which to approach the small, yet interconnected areas of the landscape and watershed that we have nearest to us. Keeping that notion of connectedness close is key to helping us to make the right decisions for the health of the alpine and riparian systems we enjoy through our livelihoods, recreations, and overall quality of life. Although by far not the least significant, let us start with the tiniest element – the seed. Sourcing seed is a paramount decision. In so doing, you are investing in the evolutionary potential of land and its future wellbeing. For sustainability in practice, seeds should be heirloom, organic, and non-genetically-modified; these are the most time-tested varieties. They do not carry within them any toxins that will release into the soil and water, nor become ingested by any other creatures.
Alongside the planting of the seed, comes the way it is cultivated and cared for. The soil should be nutrient-rich, but not by synthetic means. Composting your own 'greens' and 'browns' or connecting with the local composting facility is a great way by which to have a higher quality soil. The cleaner your soil, the more able it will be to nourish the seeds. Thus, the seeds can sprout and blossom into a healthful space for pollinators. Biodiversity is essential to successful pollination as well as to the overall resilience of a natural system. So, the next key words for us are native diversity.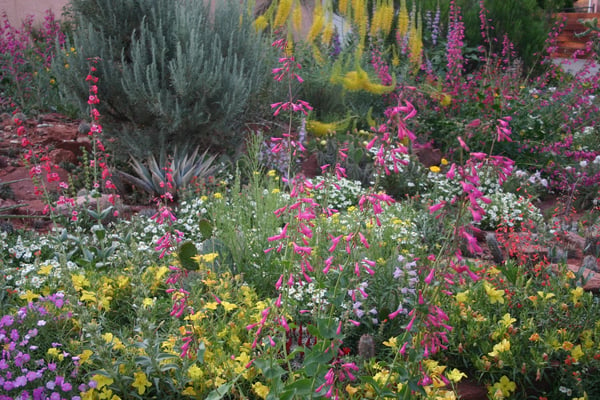 Think about the plants that have evolved over time in this region. Those are the plants most capacitated to thrive within, adapt to, and offset the climate changes we are facing. They are attuned to the fluctuations in temperature and rainfall and innately carry their own pest management systems when planted in the polycropped fashion of nature. They have a local beauty that only such alpine desert environments can provide in just that way. Let these plants repopulate the niche they worked so hard to secure evolutionarily – it would be a great service to nature to step away from the mainstream, monocropped grasses, flowers, herbs and medicinals. By diversifying our gardens and lawns and allowing natives to flourish, we reduce herbicide, pesticide, insecticide and fungicide pollutant use which is so damaging to air, water and soil quality, not to mention correlations to human and pet diseases.
We should take care to ensure our footprint on the Eagle River is one that steps respectfully, rather than arbitrarily without an understanding of the interrelations among plant and animal life, stomping out what it does not know holds value. Paying attention to the interconnections in a biodiverse place is the best way to acquire appreciation for it. The more we understand about the landscapes and watersheds around us, the more able we are to foster their resilience. Rachel Carson in her famous, Silent Spring, encouraged us to take nature's way in our seeding, farming, planting, gardening – in our overall cultivation of the soil. Let us heed her wise words and move together toward a resilient, non-silent spring.