How eating local and seasonal produce can improve your diet, build community, and reduce your carbon footprint
We are all accustomed to the stands of berries positioned at the entrance of the produce section at our local City Market. It feels like a luxury to pick up a few cases for our morning smoothie, or afternoon snack—they're only two for $5, after all. In selecting a case to purchase, its commonplace to check the contents thoroughly to ensure the delicious snack isn't too ripe for eating; considering these berries have traveled quite a distance to reach the Colorado in mid-February.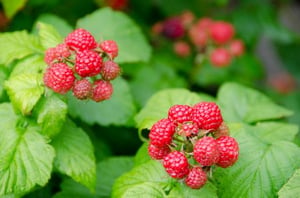 For the past 50 years our global food production and distribution system has been driven by carbon-based fuels and nitrogen-based fertilizers. Fertilizers allow farmers to grow a high yield of conventional produce and our carbon-based distribution system allows distributors to transport produce from farms to supermarkets quickly, before the produce perishes. This global food system is optimized for high food production and quick distribution.
However, the food system is not without external costs to our communities and the environment. Nitrogen-based fertilizers can damage the watersheds where our food is grown, and the fossil fuels used in transport decrease the integrity of the ozone layer, increasing the opportunity for climate disturbance locally and globally.
In North America, opportunities for locally grown produce are limited by a short growing season, aging infrastructure, and the presence of large-scale industrial farming that creates a divide between the producers (farmers) and the consumers (you and me). If you haven't seen a raspberry farm recently, it's because there isn't one within 100 miles of Eagle County and locally grown berries went out of season in July. The raspberries at our local markets are instead a product of Central and South America, where the cost of transporting them to North America can be as high as nine pounds of CO2 for each pound of berries. It is important to note that this nine pounds of CO2 per one pound of berries pales in comparison to the average 24 pounds of CO2 that are emitted from a round-trip commute from Eagle to Avon.
The transport of raspberries is an example of one piece within our global food system. Food systems both locally and globally consist of several components—production, processing, distribution, consumption, and waste disposal. As consumers, we don't maintain a great deal of control over most of these components, many of which are determined by economies of scale, infrastructure, and government regulations.
We do, however, have control over the consumption component of our food system. As consumers, we decide what we buy in a grocery store, and the purchases we make have the potential to nourish our bodies, build community, and support Colorado's economy—all while reducing our carbon footprint.
While it isn't necessarily apparent in Eagle County, Colorado's history is rich in agriculture and ranching. Kelly Liken, a local restauranteur, has made it her life's work to close the loop in Colorado's food system while paying homage to the ranchers and farmers that built our state.
"It all comes down to community and relationships," Liken explains. "When you have a relationship with your local grocer and they in turn have a relationship with the farms from which their produce is sourced, we have the understanding necessary to close the food production loop. Food grown and raised on Colorado farms ends up on Colorado tables."
In navigating our local City Market, Liken suggests we look for the Colorado flag and labels like 'Colorado Proud' that indicate produce and products are grown, raised, and made in Colorado. These items have traveled a short distance to reach us, are in season, and are likely better quality. Seasonal food nourishes our bodies when and how we need it most. For example, in winter, when our bodies require more caloric intake, foods like squash and potatoes that are in season provide us with the rich nutrients and caloric intake necessary for the season.
We can all get involved in a sustainable food system that connects us to local and regional farmers, ranchers, and food producers. This system can bring consumers closer to the farmers who grow fruits and vegetables and raise the livestock we eat. Advocates of a sustainable food system, like Liken, believe that when we decrease the distance from the farmer to the consumer, we can decrease food insecurity and create greater access to more nutritious and affordable food, all while reducing our carbon footprint. In small ways, we can build community, support Colorado's economy, and help reach Eagle County's goal of reducing carbon emissions 25 percent by 2025, and 80 percent by 2050.