As we look forward to the New Year ahead, many of us are making resolutions for self improvement and growth. This year, consider making some climate action resolutions to improve both your life and the planet! If we all focus on simple lifestyle changes and action items, we can make 2023 a positive year for our earth, ourselves, and our community. Here are some of those resolutions our sustainability team is making this year and we hope they inspire some of your own...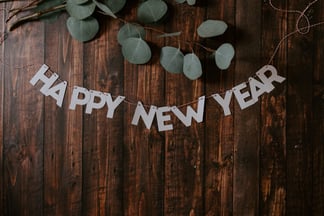 "I'm going to bike to work when it warms up!" Amelia Kovacs, Sustainability Coordinator
"I would like to be more aware of the impact of my diet and try to buy more local foods ." Elizabeth Baer, Sustainability Fellow
Focusing on sustainably sourced meats, dairy and produce from local sources can diversify your diet and help the environment. Buying produce that is in season so that it does not have to be shipped as far when possible significantly decreases carbon emissions. This may be difficult in the winter and no one can be perfect, but making an effort to frequent farmers markets come summer makes shopping fun and sustainable!
"I would like to commute to work via electric, shared, or human powered transportation twice per week." Gina McCrackin, Climate Action Collaborative Manager
As mentioned above, transportation is incredibly important to reducing your climate impact. However, if human powered options such as biking and walking are not the only ways to reduce your emissions. Taking public transportation is a great way to reduce your carbon footprint. You can also consider purchasing an electric vehicle as your next car. Buying an electric vehicle may be more affordable than you realize as it reduces your costs from gas and there are many rebates available.
"I plan to engage with my community more and help the earth by volunteering 5 times this year with environmental organizations." Emily Dennis, Zero-Waste Lead
"I already recycle but this year I plan to start composting at my apartment, to reduce my waste even more!" -Will Barror, Climate Action Collaborative Associate
Diverting waste from the landfill helps to keep resources in circulation . Composting in particular reduces emissions that result from improper decomposition of organic materials. Residential composting is available throughout the county though drop sites and have variously priced programs through

Vail Honeywagon

.
"To reduce my water usage, I am going to take shorter showers." Rikki Borkowski, Sustainability Coordinator
Water is a precious and limited resource, made even more scarce due to climate change. We need to reduce our water consumption to protect our communities and natural resources. Reducing water consumption through shortened showers, decreased landscaping usage, and encouraging

water-wise policy

are all great strategies to protect our water resources.
These examples are just a starting point! We can all make a difference this year if we work together. Happy New Year!
---
Elizabeth Baer is the Sustainability Fellow at Walking Mountains Science Center.