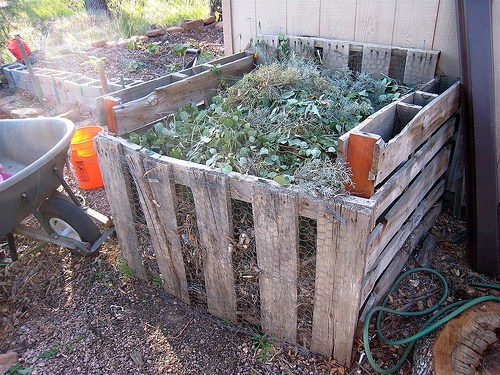 When you hear the word recycling, what materials come to mind? Most often we think about things like cardboard, aluminum cans, plastic bottles, and office paper. All great materials for recycling that can go in our bins here in Eagle County, and doing so will help us reach our climate goal of 30% waste diversion by 2030.
But there's another huge category of materials that can be diverted from the landfill: compostables! Organic material, including food scraps and yard waste, can be composted locally. The process is cool, especially to any biology nerds out there, and it can help solve some of our waste-related climate issues as well.
Landfills are intentionally designed to lock out all oxygen and moisture, which is important for protecting our groundwater from contamination. The problem is that when organic material is without oxygen and moisture, it is unable to breakdown and decompose. That in turn releases methane, a greenhouse gas more potent than C02.
Fortunately, we can better manage that organic material by composting it! Composting is a natural, biological process that breaks organics down into a nutrient-rich soil amendment, also called compost. Compost facilities can foster this process by allowing for oxygen and moisture to flow, creating a heated environment that lets bacteria and microorganisms grow and break down those organic materials.
Once that material has fully broken down, the resulting soil amendment can be used on lawns, gardens, and landscaping. It is incredibly nutrient-rich and can help with water retention and nutrient restoration, especially useful in our dry climate. There is also growing research showing that applying compost can help to pull carbon out of the atmosphere – where it contributes to a warming climate – and into the soil, where it is beneficial for plant health, a process called carbon sequestration.
Composting is an important tool that can help to reduce the greenhouse gasses being emitted as a result of our waste, all while helping to restore our soil and natural environment. Even better, this process is done locally, meaning our compostable material doesn't need to travel a far distance to get properly processed. There are commercial composting facilities already collecting organics from Eagle County, and it can also be done at home!
What are the local compost options in Eagle County?
If you're interested in composting, you have a few options to choose from. Composting food and yard waste is a great opportunity for residents and businesses, and the compost haulers provide additional trainings and resources to make sure you're doing it right. Commercial compost facilities are regulated, tested and permitted, ensuring they produce a safe product that can be used on lawns, gardens and landscaping. Bonus, compost that is made locally is already acclimated to our unique climate and will make your soil and plants extra strong!
Reach out to the companies below with questions or to request service.
EverGreen Zero Waste: EverGreen Zero Waste hauls compost from commercial customers in Eagle County for processing at the Pitkin County compost facility.
Honeywagon Organics: Honeywagon Organics hauls compost from commercial customers to their compost facility in Wolcott. They also have a Community Compost Drop Site program for residential composters. Drop site locations and sign up information are available on their website. Residential customers also receive vouchers for finished compost, so you can put the compost you helped produce right back in your garden!
West Vail Curbside Compost Pilot Program: Residents in West Vail can sign up for the Town of Vail's curbside compost pilot program with Vail Honeywagon! Residents and a limited number of HOA/multi-family buildings can participate through April 30, 2022 with a rate subsidized by the Town of Vail. Sign up on the website!
Do-it-Yourself: You can also compost all on your own, right at home. There are plenty of at-home options like backyard compost bins and vermicompost (worm) set ups. At-home options can be more sensitive than controlled commercial facilities so always be extra mindful of what you're putting into the bins.
---
Have composting questions? Reach out or tag us on Instagram @walkingmtns!