Time is running out to get a great deal on EVs and Charging Stations!
There is A LOT of activity happening at a federal, state, regional, and local level to promote the sale and install of electric vehicles and their charging infrastructure. If you've missed the news on electric-vehicles over the past month, here is a run-down on all things EV. It's important to remember these incentives and deals END SOON. If you are thinking about owning an electric vehicle or installing a charging station now's the time to act to ensure you get the most money back for your investment.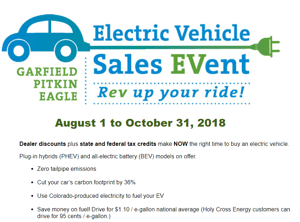 1. 2018 Electric Vehicle Sales EVent
2. Holy Cross Energy - EV Charging Rebate
Get up to $650 back when you purchase a new Level 2 electric vehicle (EV) charging station for your home or business. This offer is exclusively for Holy Cross Energy members that own or lease an EV and is only available from September 1 through November 1, 2018.
Customers must apply for the rebate by Nov. 1, 2018. For more information and to apply, visit this link or contact Holy Cross Energy at (970) 945-5491 or ev@holycross.com
3. Charge Ahead Colorado Grant
In an effort to improve air quality and encourage deployment of electric vehicles across the State of Colorado, the Regional Air Quality Council (RAQC) and Colorado Energy Office (CEO) have teamed up to provide financial support for electric vehicles (EV) and charging stations. If you are looking to purchase an EV or install a Level 2 or 3 charging station, be sure to check out these grants before they expire. Learn more about the grant application and funding opportunities here. The grant application closes on Oct 30th, 2018.