How It All Began

Founded in 1960, Fjallraven began out of the need for a better backpack to explore the mountains, forests and coastlines of Sweden. Founder Åke Nordin's goal to make nature accessible to more people by providing high quality outdoor gear could only be achieved with sustainability in mind. As Fjallraven has grown over the past sixty years, their core principle for doing so has remained focused around sustainably. After all, customers with such high quality outdoor gear need somewhere to explore.
The Vail Story
The Fjallraven Vail location, in the heart of Vail Village, sells a range of outdoor clothing, backpacks, equipment and accessories. In addition to being Actively Green Certified, they are dedicated to being a hub for environmental and outdoor education. Fjallraven Vail prides themselves on being good neighbors by partnering with local businesses and supporting community nonprofits. The staff work hard to educate their customers, new and returning, about responsible tourism. Fjallraven's sustainability standards are exemplified and rooted in the underlying values of the company: "We don't conquer mountains, tame rivers or beat the weather. We go slowly. We tread carefully. We always cherish the visit and we leave longing to return."

Sustainability Leads at All Fronts
Each of Fjallraven's North American storefronts employ a Sustainability Lead. They're tasked with developing resource-saving practices and maintaining sustainability certifications as they follow Fjallraven's goal of "developing & producing on nature's terms." Before visiting Fjallraven Vail, we were curious if our local store was following the company's strict sustainability standards, when many other businesses have pushed it aside due to lack of resources during the ongoing challenges presented by the Coronavirus pandemic. After interviewing Dani White, the Assistant Store Manager and Sustainability Lead, we are confident that sustainability is a priority for Fjallraven Vail, and has offered a connection point to the community that has been strengthened over this unprecedented time.
Collaboration, Education & Community Engagement
Fjallraven prides themselves on continuous sustainability improvement due to collaboration between their more than thirty stores in four countries. At quarterly company-wide sustainability meetings, staff are asked to share challenges, progress points, and to test innovative ideas, in order to make Fjallraven a more sustainable business. At a recent regional sustainability meeting, a tailor at one store shared how silica gel packets have been diverted from the landfill and upcycled into ice defrost packs or repurposed neck pillows. Without these sustainability meetings, this solution would have stayed at one store instead of being implemented across various Fjallraven locations. In addition to being a forum for collaboration, the sustainability meetings serve as educational opportunities for Sustainability Leads. Dani, the Sustainability Lead at the Vail store, is a passionate environmental steward who constantly works to engage her coworkers with Fjallraven's sustainability initiatives. As the in-house sustainability expert, Dani is available to answer other employees' questions, contribute to a collective repertoire of sustainability tips to share with customers, prompt suggestions for more resource saving ideas, and troubleshoot implementation of best practices with her colleagues, both in the workplace and for their own at-home application.
Employee & Customer Education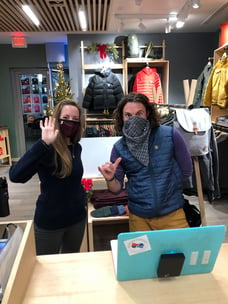 Every new Fjallraven employee goes through extensive training, including learning about the company's sustainability practices. Training covers Fjallraven's innovative techniques that use fewer harmful chemicals, microplastics and fluorocarbons in production through innovative design and meticulous material procurement. Employees are introduce to the company's use of many natural, cruelty-free fibers and materials, like responsible down, fully traceable wool, organic cotton, recycled synthetics, hemp, and certified sustainable wood. All employees are acquainted with Fjallraven's adaptable, trade- marked Greenland Wax (mainly beeswax), for customers' use as a tool to increase water resistance on canvas clothing and equipment. Employees are even educated on the product's alternatives, such as a classic Gore Tex, or other brands that use fluorocarbons and microplastics for waterproofing. Once trained, employees pride themselves on the educational experience they provide customers. Since Fjallraven Vail opened, employees have noticed that even new customers have a basic knowledge of Fjallraven's sustainability practices, and they encourage those customers to continue expanding this awareness. Customers choose to shop at Fjallraven because they know they are supporting a sustainable company actively working to reduce negative, and increase positive, impacts at all levels.

Community Engagement
Fjallraven Vail is committed to doing good for the community too. Employees are encouraged to volunteer, and the company often partners with local businesses and nonprofits. Fjallraven Vail has c
o-hoste
d a pop-up with Fill & Refill to engage the community in low-waste lifestyle and conscious consumer habits; sponsored charity events such as Man of the Cliff, Ski for MS and the Walking Mountains Sustainable Film Series; and has contributed to educating local businesses about disseminating Lea
ve No Trace principles. In addition to increasing brand awareness, Fjallraven's com
munity involvement demonstrates commitment to the place they do business in, the locals who support them, and their employees.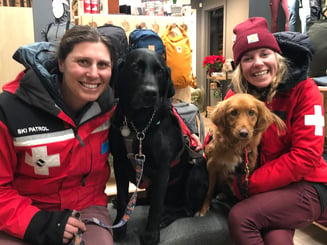 Fjallraven Vail's community involvement goes beyond partnerships and donations: This storefront location also provides mentorship to students in the community. With the help of Fjallraven Brand Ambassadors - called Local Guides - Fjallraven Vail can further connect store guests with nature by leading educational guided hikes, organizing river clean-ups, and representing brand values within the community. One local guide, a Hydrologist and adventurer, has helped lead informative discussions and hikes related to snow science, resource management, and other water conservation topics specific to the Western U.S. Another local guide, and member of the local ski patrol, contributes to Fjallraven Vail's expertise in mountain safety not only with her comprehensive knowledge and experience, but also with her mountain rescue dog alongside. With this competency, the storefront is able to host events with local mountain rescue and ski patrol professionals to educate locals and visitors on avalanche and backcountry safety. Fjallraven also partners with My Future Pathways, a local non-profit organization helping underserved LatinX youth. By volunteering their time, Fjallraven's employees are given the opportunity to teach students about resource conservation, recreational planning and preparedness, and guide youth groups on hikes and trail experiences to better understand and connect to the outdoors.
Wildly Successful & Widely Celestial
Fjallraven Vail encourages everyone to be a part of their community. They are a shining example of a business who balances their commitment to the environment, their community, and their own business success. Fjallraven produces environmentally friendly gear, employs sustainability leaders, supports their community, and is able to do so while maintaining a wildly successful business. For Fjallraven, sustainability isn't an afterthought, it is an integral part of their brand identity that keeps customers coming back. This is how they have made a significant impact in Vail, the Eagle Valley, and beyond.
---
Tell us how you have incorporated sustainability into your business's operations by taking a stab at the Green Business Trail Map Checklist Form!