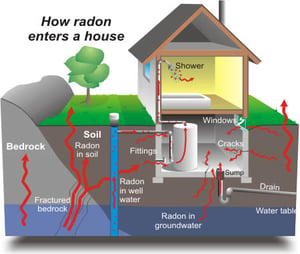 January is National Radon Action Month to motivate us to avoid the negative health effects of radon through mitigation.
The Environmental Protection Agency (EPA) describes radon as a naturally occurring cancer-causing, radioactive gas that kills thousands of Americans every year. It is a clear, tasteless, and scentless gas that is produced by the natural decay of uranium in the soil, and it make its way into your home through cracks or holes in your home's foundation where it can build up and put your health at risk.
The Colorado Department of Public Health and Environment (CDPHE) says that half of the homes in Colorado have radon levels that are higher than the EPA's recommended level of 4 picoCuries per liter (pCi/L)! Luckily, there is an easy way to find out if your home has dangerous radon levels.
During the month of January, you can pick up a FREE radon test kit at 4 locations in Eagle County: the Eagle County Environmental Health Desk, Vail Health's Shaw Cancer Center Pharmacy, Walking Mountains Science Center's Front Desk, and the El Jebel Community Center. Then, simply follow the instructions on the test kit, mail the test kit to a laboratory for free, and receive your test results.
My Home has high Radon Levels! What Do I Do Now?
If your results are higher than 4 pCi/L, Walking Mountains Science Center is here to help! Just follow the steps below and give us a call if you have questions along the way.
The EPA recommends first retesting your home to be sure that your radon levels are consistently high. You can pick up a second free test kit at one of the locations listed above – this is recommended if your first result was 8 pCi/L or higher as it provides quick results. Otherwise, you could hire a qualified tester to perform a long-term radon test to better understand your home's year-round average radon level.
If your second test result also shows radon levels higher than 4 pCi/L, the EPA recommends lowering radon levels in your home through radon mitigation. There are several ways to reduce the amount of radon in your home. The most common mitigation system is a vent pipe system and fan in which the fan pulls radon from under your home and releases it outside of the home. While this system does not require major changes to your home, it will need to be installed by a certified contractor. Contact Walking Mountains Science Center for a list of certified contractors in our area.
Finally, if you are concerned about the cost of your mitigation project, Walking Mountains Science Center is still here to help! We will rebate radon mitigation projects $500 up to 50% of your project cost. Plus, the CDPHE offers radon mitigation assistance to income-qualified households.
Please contact Energy Smart Colorado at Walking Mountains Science Center at (970) 328-8777 if you have any questions or concerns about radon in your home.
https://www.colorado.gov/pacific/cdphe/understanding-radon
https://www.epa.gov/sites/production/files/2016-12/documents/2016_a_citizens_guide_to_radon.pdf
Lauren Dériaz is the Energy Programs Coordinator at Walking Mountains Science Center. She can be reached at laurend@walkingmountains.org