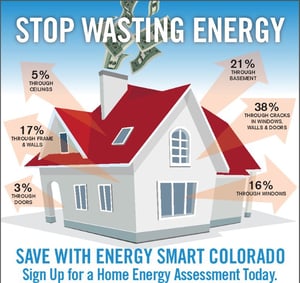 The days are short, frost is in the air, and the cold is making its way into your home. Or, maybe the heat within your home is escaping faster than it can be replaced. It's not uncommon to feel like you need a little supplemental heat during the winter to maintain comfortable living spaces. Prior to plugging in an electric heater you might want to consider why you need the additional heat in the first place, and address any issues that fix the problem. There are two major questions you will want to ask yourself:

1. Are the cold spaces in my home adequately air-sealed and insulated?
2. Is my central home heating system working efficiently?


Heating your home prior to sealing and insulating leaky areas is similar to filling your winter coat with hand warmers instead of zipping up the front. You could potentially eliminate the need to provide supplemental heat options within your home if you first fix the leakage and insulation concerns. The Energy Smart Colorado program through Walking Mountains Science Center provides locals with home energy assessments, which can identify where air is leaking from your homes.
Enroll for a home energy assessment at www.walkingmountains.org/energy.
To heat your home efficiently you need to convey the heat from your furnace or boiler to living spaces with the least amount of loss possible. Ductwork and piping for these appliances usually carry heated air or liquid through colder parts of the home (crawlspaces and attics) exposing them to heat loss prior to the final destination, if they lack adequate insulation and/or sealing. Inspection, sealing and insulation of these conveyor systems are key to ensuring the heat being generated is adequately getting to your living spaces.
After ensuring your home is sealed, insulated and the central heating system is at maximum efficiency, you still might want supplemental heat or yearn for the ambiance of a fire. If your home's main source of heating fuel is gas or wood and your electricity provider has a large renewable energy portfolio, it might be more environmentally friendly to use a high efficiency electric fireplace for heating smaller occupied areas. Compared to a gas or wood burning fireplace, an electric fireplace is far superior at providing heat with far less carbon emissions and air pollution.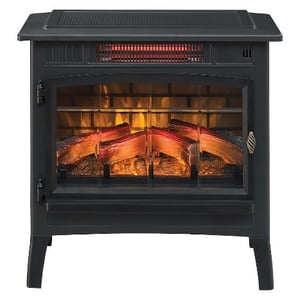 There are many supplemental heating options available and it's important to consider the following things when looking at options:
• How safe is the heater?
• How efficient is the heater?
• Is the appliance EnergyStar rated?
• How much energy does the heater use compared to your existing heating system?
• Will it offset a more expensive or carbon intensive heat source?

Remember that being comfortable in your home might not mean maxing out your heating system, holding onto the heat being produced could be more effective. Our Energy Coaches at Walking Mountains can guide you as you think about the best ways to stay warm this winter!
---