Disposal of Household Hazardous Waste in Eagle County
* All household hazardous waste can be brought to the HHW Facility located two miles north of Wolcott (Exit #157),
off Highway 131, at the Eagle County Landfill.

Materials Accepted at the HHW (no charge up to 20 items)
• Lawn and garden products include insect sprays
• Fertilizers, weed killers, fungicide, herbicide and rodenticides
• Paint and paint-related products include latex paint, oil-based paint, paint thinner, turpentine, paint strippers, rust removers, varnishes and stains
• Household cleaners include ammonia and bleach-based cleaners, oven, drain, floor, tub, tile and toilet bowl cleaners
• Automotive fluids and batteries include used motor oil and filters, gas fuel, diesel fuel, lead acid batteries, antifreeze, and brake and transmission fluid.
• Miscellaneous waste includes mercury thermostats, batteries, swimming pool chemicals, sharps and syringes.
• Electronic Waste @ $0.20 per pound
**When in doubt, please contact the HHW facility at 970-328-3463.
Prescription Drugs are NOT accepted, please drop any over-the-counter or prescription drugs at the Rx Drop Box located at the Eagle County Sheriff's office (885 Chambers Avenue, Eagle CO) Monday – Friday, 8 a.m. to 5 p.m at no cost.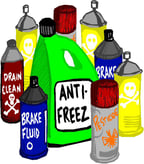 Directions to the facility are as follows:
1. Turn right from Highway 131 (just past the two mile marker) onto County Road 49 (Ute Creek Road)
2. Follow road about a mile until it forks, then take the left fork
3. When you pass the second gate, make a right
4. You will see a sign for the household hazardous waste facility