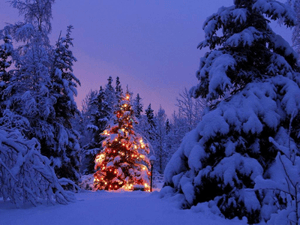 Well, the holidays are now over and we've officially made it to 2021. While some of us like to stretch out the festive season by keeping our decorations up as long as possible, eventually, it comes time to take them down.
If you have a natural Christmas tree at home, consider one of these local recycling options. Most often, these collections will mulch and chip the trees for use on landscaping projects, a much more sustainable option than putting those trees in the landfill.
For all of these collections, Christmas trees must have all lights, ornaments, tinsel, and other decorations removed. No other yard waste or decorations are accepted. Please contact towns and jurisdictions directly for questions.
Town of Avon
:
Christmas Tree Recycling Offered to Avon Residents
The Town of Avon will offer curbside Christmas tree pick-up for Avon residents from December 26, 2020, through January 31, 2021. All trees must have their lights and ornaments removed. The town will only pick up cut trees; artificial or flocked trees, wreaths or seasonal debris will not be collected. No yard waste will be collected. Avon Public Works will check for trees that are placed curbside on a frequent basis, but if residents would like to schedule a pick-up, they may call the Public Works Department with their address and phone number. For more information or to schedule a pick up, please contact Gary Padilla, Public Works Director at (970)748-4118 or email gpadilla@avon.org. Recycled trees will be chipped for mulch. Thank you to Waste Management for assisting the Town of Avon in disposing the trees.
Town of Basalt
The Town of Basalt is accepting Christmas trees from Basalt residents only at Arbaney Park until Jan. 31.
Town of Eagle
Although the traditional 12th Night of Christmas community bonfire event is cancelled this year in Eagle, residents may still drop off their trees in the southwest corner of Eagle Town Park to be mulched on January 11.
Town of Gypsum
The Gypsum "used" Christmas Tree Drop will be available at the west end of the Gypsum Sports Complex parking lot (3295 Cooley Mesa Rd.) from December 26, 2020 through January 8, 2021.
Town of Minturn
:
Minturn Christmas Tree Recycling
The Town of Minturn will not be hosting the annual Christmas Tree Bonfire due to high COVID case numbers throughout the valley. For residents wanting curbside pickup of their tree ($20 cost to resident), they'll need to contact Vail Honeywagon directly to request a work order. Trees picked up curbside by Vail Honeywagon will go in the landfill, and will NOT be picked up without a work order. If residents would like to have their trees recycled, they can deliver the tree to any of the approved drop- off locations in Eagle County.
Roaring Fork Valley
Residents may bring their trees to the Pitkin County Landfill for no charge until February 15
Town of Vail
:
Free Curbside Christmas Tree Recycling for Vail Residents
Free curbside collection of discarded Christmas trees will take place in Vail Dec. 26 through Jan. 31. Trees must be free of lights, tinsel, ornaments, stands and plastic wrapping. Also, trees should be left whole; do not cut trees into sections. Trees should be placed at the side of the road so as not to block the roadway. Public Works crews will make regular sweeps through town to collect the trees. If your tree isn't picked up within a few days, please notify the Public Works Department at 970-479-2158. Trees also may be dropped off from 8 a.m. to 5 p.m. Monday through Friday at the Public Works shops on Elkhorn Drive north of the Vail golf course. The trees are chipped and turned into mulch for the town's summer landscaping program.
Vail Valley Waste
and
Vail Honeywagon
will also collect customers' Christmas trees curbside (for a fee/by request). Contact those haulers to set up collection.
All Eagle County residents may also drop off their Christmas trees at the following free locations until February 12:

EagleVail driving range parking lot
Recycling site at the Edwards rest area
Eagle County Landfill in Wolcott (year round)
And last, perhaps our favorite and most sustainable option…donate your Christmas tree to a goat farm - they love it!
---
Nina Waysdorf is a Sustainability Programs Coordinator at Walking Mountains Science Center. Her favorite part of the holiday season is having potlucks with friends, even if they're over Zoom this year.