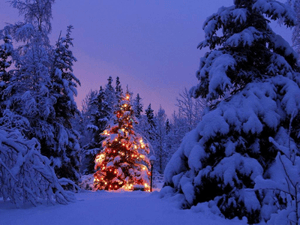 As pine, spruce, and fir trees hold the spotlight during the holiday season, they also play a less festive role in our waste streams. Each year, an estimated, an estimated 25 million to 30 million live Christmas trees are purchased in the US, with millions that end up in our landfills.
If you have a natural Christmas tree at home, consider one of these local recycling options. Most often, these collections will mulch and chip the trees for use on landscaping projects, a much more sustainable option than putting those trees in the landfill.
For all of these collections, Christmas trees must have all lights, ornaments, tinsel, and other decorations removed. No other yard waste or decorations are accepted. Please contact towns and jurisdictions directly for questions.
Town of Avon
The Town of Avon will offer curbside Christmas tree pick-up for Avon residents from December 26, 2021, through January 31, 2022. All trees must have their lights and ornaments removed. The town will only pick up cut trees; artificial or flocked trees, wreaths or seasonal debris will not be collected. No yard waste will be collected. Avon Public Works will check for trees that are placed curbside on a frequent basis, but if residents would like to schedule a pick-up, they may call the Public Works Department with their address and phone number.
For more information or to schedule a pick up, please contact Gary Padilla, Public Works Director at (970) 748-4118 or email gpadilla@avon.org. Recycled trees will be chipped for mulch.
Town of Basalt
The Town of Basalt is accepting Christmas trees from Basalt residents only at Arbaney Park until January 31st.
Drop off your Christmas tree at the parking lot at 4th and Colorado through the end of January for free.
Town of Eagle:
Eagle 12th Night Christmas Tree Bonfire
Residents may drop off their trees in the southwest corner of Eagle Town Park. They will be burned at the 12th Night Bonfire on January 6th.
Town of Gypsum
The Gypsum Christmas Tree Drop will be available at the west end of the Gypsum Sports Complex parking lot (3295 Cooley Mesa Rd.) from December 26th through January 10th.
Town of Minturn
:
Minturn Christmas Tree Bonfire
Town of Minturn will provide curbside collection January 3rd through January 7th until 12pm.

Residents may also bring their trees directly to Little Beach Park for the bonfire, on Friday January 7th.
Town of Vail
Free curbside collection of discarded Christmas trees will take place in Vail Dec. 26 through Jan. 31. Trees must be free of lights, tinsel, ornaments, stands and plastic wrapping. Also, trees should be left whole; do not cut trees into sections. Trees should be placed at the side of the road so as not to block the roadway. Public Works crews will make regular sweeps through town to collect the trees.
If your tree isn't picked up within a few days, please notify the Public Works Department at 970-479-2158.
Additional Options:
All Eagle County residents may also drop off their Christmas trees at the following free locations until mid-February:

The Edwards rest area.
Eagle-Vail driving range parking lot
Eagle County

Landfill

in

Wolcott

(year-round)
Vail Honeywagon

Compost Drop Off - For a small disposal fee, you can compost your Christmas tree at the Vail Honeywagon Compost Facility! Open Monday-Thursday 9am-4pm. Go to vailhoneywagon.com for more details.
Curbside Collection – Vail Honeywagon will collect your tree curbside for a small fee. Please contact their office at 970-476-3511 to schedule your tree for removal.
Wildflower Farm

Ethos Landscaping will be providing access to a drop off site for Christmas trees and old Christmas lights at the Wildflower Farm in Edwards, CO from December 26th to January 7th Monday – Friday, 10am – 4pm (appointments preferred but not required).
Pitkin County Landfill

Roaring Fork Valley residents may bring their trees to the Pitkin County Landfill for no charge until February 15th

.
Want to go above and beyond this year? Try eating your Christmas tree!
---
Nina Waysdorf is a Sustainability Programs Manger at Walking Mountains Science Center. Her favorite part of the holiday season is having potlucks with friends.