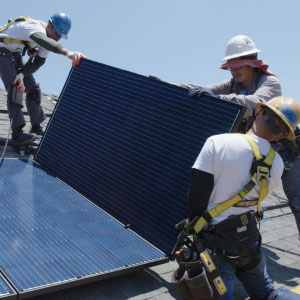 As an American citizen, it has become difficult to understand the issue of climate change: what side you should take, whom you should believe, and what topic's most important. The film Paris to Pittsburgh does not try to convince you in any way of how to react to the issue; but, rather, shows steps that Americans from Los Angeles, California to Clarksville, Iowa, to Orlando, Florida are taking to combat the issues that climate change is bringing about in each city and region.
The film will be featured on Wednesday, November 6th at 6:30 PM at its' new location the Riverwalk Theater in Edwards. The entire Sustainable Film Series is free to attend, although a $5 donation is recommended. The Sustainable Film Series, presented by Walking Mountains Science Center, is intended to help the Eagle County community become more aware of important issues and spark conversation regarding climate and the environment.
Despite President Trump withdrawing from the landmark 2015 Paris Climate Agreement, Americans have taken matters into their own hands for economic, environmental, or social justice reasons. The film highlights how cities, businesses, and universities have created their own goals, initiatives, and programs to create resilient, more sustainable places in which to live and work. Emission reductions, renewable energy, sea level rise, health, and transportation are topics of discussion covered in this expansive film. It follows past gang members in LA, farmers and college students in Iowa, surfers in Florida, and nonprofit work in Puerto Rico to highlight the actions they are taking to better their world around them.
Walking Mountains Science Center has done their own part in helping the movement, being the facilitator of the Climate Action Collaborative. This organization has created multiple goals, with a major focus on the reduction of greenhouse gas emissions in the most important sectors. Visit www.walkingmountains.org/resources/climate-action-collaborative/ to learn more and see how you can be a part of the solution in Eagle County. To view the entire line-up of the series, visit www.walkingmountains.org/films and for more information about this film in particular, visit www.paristopittsburgh.com
IF YOU GO.....
What: Paris to Pittsburgh is part of the Sustainable Film Series
When/Where: 6:30 p.m. Wednesday, Nov. 6th at Riverwalk Theater, Edwards
Cost: $5 suggested donation
More Information: Email green@walkingmountains.org