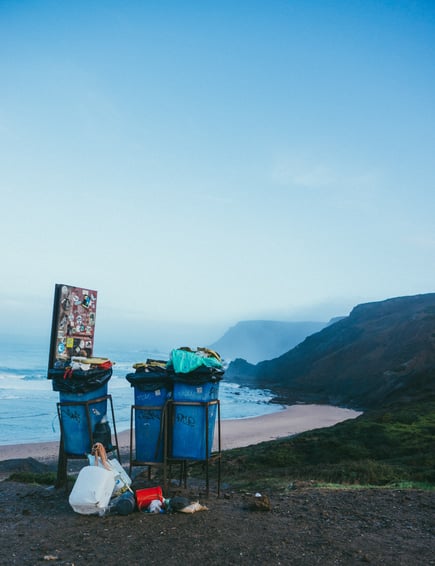 If you're here in Eagle County visiting, or have recently taken a trip, you may have been confused to find that recycling rules can be different from place to place. Within Eagle County there are different recycling rules depending on where you are and how you recycle, and those rules are a little different than how people recycle next door in Summit County, down in Denver, or in another state or country. Recyclers, haulers and processors must consider many factors when deciding if something is recyclable or not, including markets, access and infrastructure. Recycling is based on markets in that there needs to be someone to buy a material and process it into a new item. If there's no market, then it's not recyclable! And different recyclers and facilities have access to different markets, which accounts for some of the variance place to place.
It's also important to consider access and infrastructure. Can materials safely and efficiently get to their available markets? Take glass, for instance. In many parts of the country, there are no glass recyclers nearby. Because of the weight and fragility of glass, it unfortunately may not make economic or logistical sense to transport that material. We're lucky in Colorado to have a glass recycler in the state. Consider though, the geography of Eagle County. We're in the mountains. That means that there are almost always extra transportation and logistical considerations for getting materials to markets.
Keep in mind that where you live and where you travel might have different recycling rules so it's always important to check! Follow these tips to make sure you're recycling right, wherever you are:
1) Make sustainability a part of your vacation! Too often we ignore waste diversion and forget the important choices surrounding our personal footprint when we're away from our regular routines. But no matter where you are, it is important to still carry those same best practices.
2) Share your values. Depending on where you are, recycling and other waste diversion opportunities may be more or less available. Not every municipality, hotel, airport, rest stop or restaurant has recycling readily available to guests, but the more we request and demand those services the more prevalent they will become. Make it clear that sustainability is an important decision making factor when planning trips.
3) Always know before you throw. Contamination is bad for recycling, so it's best to be sure of the rules. Most local governments will have a list of what is recyclable and what is not, so it's worth a quick google search for wherever you're visiting. There are also plenty of handy guides available online that can link you to helpful resources and help you search by zip code. Try the Solid Waste Recycling and Disposal Guide, how2recycle, or the Keep America Beautiful zip code search engine. Note that these resources aggregate information that is always changing, so it's still best to double check with the local government, hauler or recycling provider wherever you are.
4) While you're here, check the Eagle County Waste Wizard app. It's available for free download on Google Play and the App Store, as well as a web platform on the Walking Mountains Science Center website. Similar apps and resources are available around the world, so check if there's an app for where you live, too!
---
Nina Waysdorf is the Sustainability Programs Manager for the zero waste program at Walking Mountains Science Center.