Wildfires can make a big difference when it comes to your running, biking or hiking routine. As we have seen in many recent years, and instances, It may be downright hazardous when fires are too close or the air pollution is too bad. If you still wish to exercise when there's smoke in the air, here are some tips to help you stay safe:
1. After a Wildfire Check Your Air Quality Index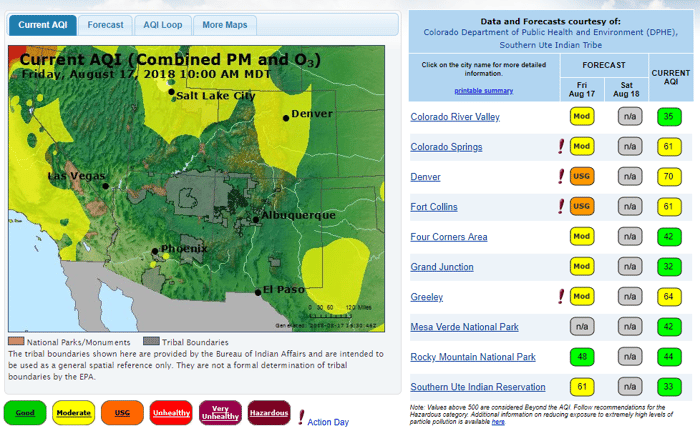 Checking the current air quality will help you determine if you're even able to go for a run, ride or hike after a wildfire. A decent resource you may be able to use is AirNow, which is managed by the Environmental Protection Agency. Some zip codes do not return results on AirNow, but you can still view Colorado as a whole on a map. You can also gauge how safe a run is based on your visibility. If you can see for at least 12 miles in the distance, you're fine. On the other hand, if you can see less than 1.5 miles ahead of you it's dangerous to even be outside.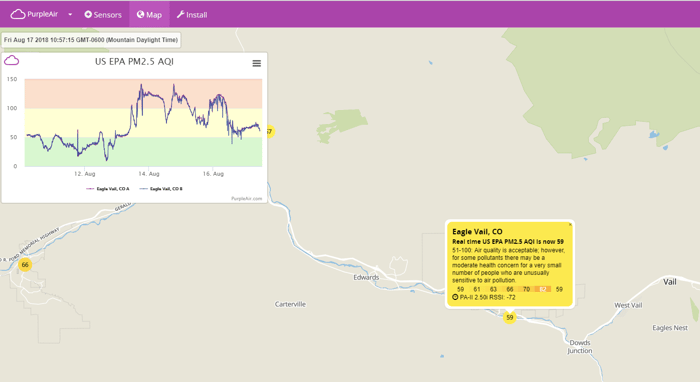 Another good air quality site with a little bit more information specific to the Eagle River Valley is PurpleAir. PurpleAir includes monitoring stations throughout the Vail Valley so you can easily reference certain running, biking or hiking trails and their current air quality conditions.

Use a Smartphone App to Check Air Quality Before Running During a Wildfire
There are also many good mobile apps for your smartphone that you can use to check air quality on the go or while on your run, bike or hike.

Plume Air Report App:
Plume Air Quality gives you a good 24 hour forecast for planning ahead.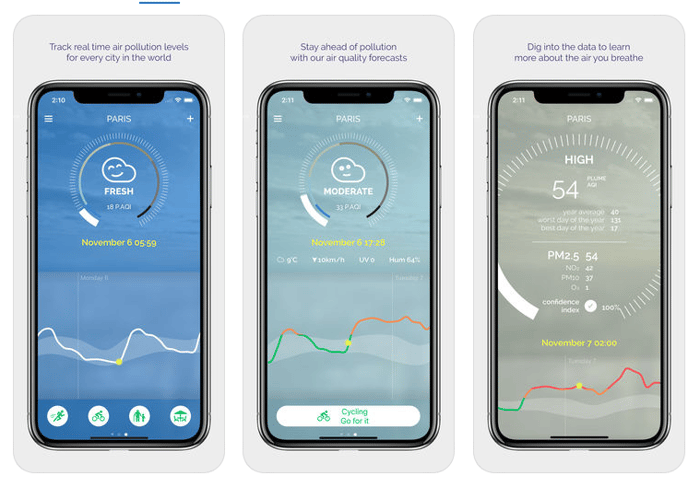 BreezeoMeter gives you a very helpful map. For instance you can determine if the air quality is better or worse in Vail vs. Eagle. Frequently this season air quality has been better on the eastern side of the Eagle River Valley and this app does a good job of helping you to determine which locations have better air quality.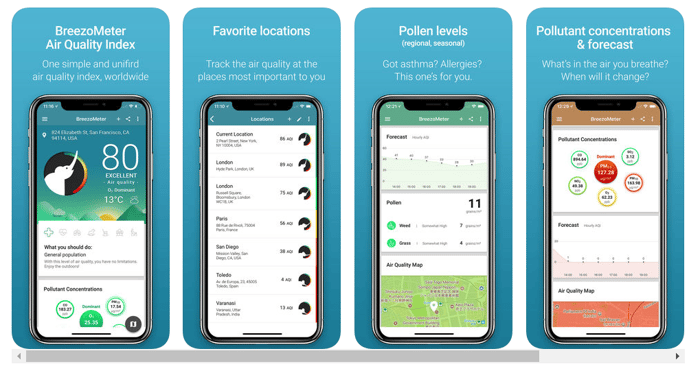 2. After a Wildfire Take it Easy
Because your lungs and eyes will become irritated when you run outside after a wildfire, you can't expect to run as far or as fast as you typically would. The general rule of thumb is that longer runs (more than one hour) should be avoided when smoke is heavy in the air. The more you exert yourself, the more smoke you'll inhale. If you can, run a shorter distance, run a little slower than usual, take a flatter route, or break up your exercise routine into chunks so you can get indoors and out of the smoke once in a while.


3. After a Wildfire Abstain In Some Situations
Some people simply shouldn't run when there's smoke in the air. While running is great for cardiovascular health, people with heart disease or lung problems like asthma should be very cautious when running outside after a wildfire. If you're concerned about your health conditions and running in low-quality air, be sure to speak with your health provider before continuing your running routine.


4. After a Wildfire Don't Bother With a Mask
You may be tempted to pop on a dust mask to protect your nose and lungs from the air, but don't bother. Wildfire smoke contains a fair amount of toxic gasses, which a simple dust mask wouldn't be able to filter out. Additionally, when you wear a dust mask while exercising you'll need to work harder to breathe, meaning that you'll be putting additional strain on your already-irritated lungs. You can use a special mask designed for those who work outside after or around wildfires, but if the air quality is truly that poor it's best to sit this run out.


5. After a Wildfire Listen To Your Body
At the end of the day, everyone will react differently to wildfire smoke. Depending on your level of fitness and biological factors, you may feel fine outdoors while a friend is wheezing and having difficulty breathing. When you're deciding whether you should be outdoors running, try to pay attention to your body and see if you're experiencing any symptoms of smoke inhalation:

Chest pain
Heart palpitations
Wheezing/difficulty breathing
Cough or phlegm
Headache
Nausea or fainting
Eye irritation or difficulty seeing

If you experience any one of these symptoms on your run, it's best to turn around and try again when the air quality has improved. Everyone will react to smoke differently, so it's most important to stick with what works with you.

Helpful Links:

https://www.outsideonline.com/1784031/it-safe-exercise-near-recent-wildfire

https://www.airnow.gov/index.cfm?action=airnow.main

https://www.healthyfamiliesbc.ca/home/blog/it-safe-exercise-outside-when-air-smoky

*This article was created by Personal Injury Help an organization dedicated to providing the public with information about personal injury and safety information. Nothing in this article should be construed as legal advice, and it is intended for informational use only. Be as safe as possible when exercising after a wildfire!