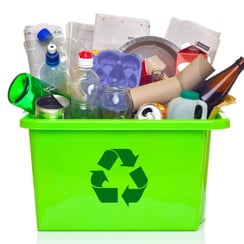 Often in recycling, we talk about the big things – cardboard boxes and aluminum cans: good to go, Styrofoam: leave it out. But after all is said and done, you might be left wondering about the little things. Despite our best efforts, there always seem to be things that don't fall into any obvious category.
We're here to help. Read below for some answers to those commonly confusing and often leftover items.
| | |
| --- | --- |
| | Plastic bottle caps: Plastic bottles caps should be either attached and put in the recycling, or removed and thrown away in the trash. They should not be thrown away loose in the recycling. Loose caps can easily get caught in the machinery at the recycling centers. |
| | Glass jar lids: Remove the lid and throw it away in the trash before recycling the glass jar. The lids are not recyclable with the glass jars and can get caught in the machinery. Corks and bottle caps should also be thrown away in the trash. |
| | Single-use plastic items (cutlery, straws, and condiment containers): Almost all small, single-use plastic items should be thrown away in the trash. Items like cutlery, straws, and small condiment containers are rarely made of recyclable plastic, and are typically too small to make it through the recycling process anyway. Note that BPI certified compostable cutlery and condiment containers are often accepted in commercial composting systems. If you have access to commercial compost, check with your hauler for their compostable serviceware guidelines. Want to start composting? Check out EverGreen Zero Waste and Honeywagon Organics for their composting options! |
| | Plastic bags: Plastic bags should never ever go in your household recycling bin! Even if they have the recycling chasing arrows symbol, they cannot be processed with other recyclables. In fact, they are the #1 contaminant in our recycling systems as they get caught in the machinery at the recycling centers and create a safety and operational hazard. If you bag your recycling at home, make sure you dump the recyclables into the bin and throw the bag away. You can often find soft/film plastic recycling drop offs for grocery-type plastic bags at stores like Wal Mart, City Market, and Safeway. Note that many of these drop off collections are on hold due to COVID – but keep checking, they will come back! Until then, keep them out of your recycling bin! |
| | Labels on bottles and cans: The paper-like labels on water bottles and cans are typically fine to keep attached. These will come off in the remanufacturing process and don't cause problems for the processing facilities. However, if any plastic labels come unattached they should be thrown away in the trash, not loose in the recycling. |
| | Broken drinking glasses: While glass bottles and jar are recyclable in Eagle County, most drinking glasses are typically made of a different type of glass that cannot be recycled. So if you break a glass at home, please safely throw it away in the trash, not the recycling. |
---
Have more recycling questions? Tag us @walkingmtns on Instagram or send your questions in to green@walkingmountains.org. Thanks for recycling right!