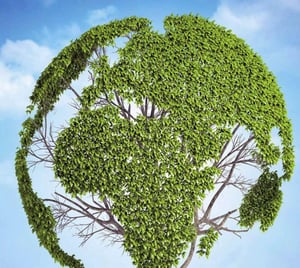 Last week, the Colorado Department of Public Health and Environment recognized 11 Eagle County businesses for outstanding environmental achievements that help protect our state. Representing 6.5% of businesses recognized statewide, each one of these entities is also a certified Actively Green business... but these 11 businesses' outstanding efforts to excel beyond environmental compliance by shining in many different indicators of sustainability performance don't stop there!
The Environmental Leadership Program (ELP) is Colorado's statewide environmental recognition and stewardship program. Their awards recognize Colorado organizations with bronze, silver and gold designations for voluntarily going beyond compliance with state and federal regulations and for their commitment to continual environmental improvement. This year, the department will virtually celebrate these accomplished companies and their sustainability achievements through social media, industry outreach, and sidewalk chalk emblem displays of the ELP logo outside each business. Keep an eye out for this fun stamp of recognition, or check out this informational video to learn more: bit.ly/ELPSidewalkChalk
As Silver Partners to the ELP, Antlers at Vail and Eagle River Water & Sanitation have had a significant positive impact on the well-being of Colorado's environment in many ways. While diverse in nature, these two businesses have made contributions toward the same climate action goals, including the following efforts to name a few: consistently purchasing renewable energy to power their buildings, installation of an electric car charging station, and improvement of education regarding waste diversion through recycling and composting practices.
ELP Gold Leaders - including East West Hospitality, Encore Electric Mountain Division, Falcon Point, Inn at Riverwalk, Poste Montane Lodge, Sonnenalp Resort of Vail, Vail Public Library, Vail Spa Condominiums, and Walking Mountains Science Center ourselves - have also had significant positive impact on sustainability actions locally and on climate action globally. Because it was too difficult to summarize all of these efforts, a few that stood out as especially exciting have been listed below.
Several Gold Leaders replaced existing products with eco-friendly alternatives that exhibited a variety of characteristics, such as: supporting bee pollination; constructed of recycled materials; purchased in bulk and refilled, rather than replaced; crafted using organic materials; and available within 100 miles.
Reduced vehicle emissions are the result of at least three new or improved policies implemented this year: A "No Idling" policy for guests of, and delivery vehicles visiting, their property; as well as development of an employee benefits program making use of public transit free.
Participation in, and hosting of, educational programming related to sustainability issues seemed to have been the focus of at least three of these Gold Leaders. Additionally, nearly every business was involved in a River Cleanup Event!
Perhaps one of the most impressive efforts from two of our ELP Gold Leaders this year was related to waste diversion.

Sonnenalp Hotel of Vail diverted 84% of waste from their hotel otherwise headed for the landfill during the 2020 Business Recycling Challenge!
Vail Spa Condos diverted 56% of waste generated by their hotel in total over a one-year time period!

For a complete list of organizations with gold, silver, and even bronze designations, along with summaries of our 11 local businesses' environmental efforts, please visit the department's Environmental Leadership Program website at www.colorado.gov/cdphe/environmental-leadership-program.
---
Sources
www.youtube.com/watch?v=nH-mWmTjZ8k&feature=youtu.be
https://sites.google.com/state.co.us/elpcompanyprofiles/silver-partners/antlers-at-vail?authuser=0
https://sites.google.com/state.co.us/elpcompanyprofiles/silver-partners/eagle-river-water-sanitation?authuser=0
https://drive.google.com/file/d/1RQq1EHIippch2lVgsn0C95ZDzHyll7wi/view
https://sites.google.com/state.co.us/elpcompanyprofiles/gold-leaders/encore-electric-mountain-division?authuser=0
https://sites.google.com/state.co.us/elpcompanyprofiles/gold-leaders/inn-at-riverwalk?authuser=0
https://sites.google.com/state.co.us/elpcompanyprofiles/gold-leaders/falcon-point?authuser=0
https://sites.google.com/state.co.us/elpcompanyprofiles/gold-leaders/poste-montane-lodge?authuser=0
https://sites.google.com/state.co.us/elpcompanyprofiles/gold-leaders/sonnenalp-resort-of-vail?authuser=0
https://sites.google.com/state.co.us/elpcompanyprofiles/gold-leaders/vail-public-library?authuser=0
https://sites.google.com/state.co.us/elpcompanyprofiles/gold-leaders/vail-spa-condominiums?authuser=0
https://sites.google.com/state.co.us/elpcompanyprofiles/gold-leaders/walking-mountains-science-center?authuser=0