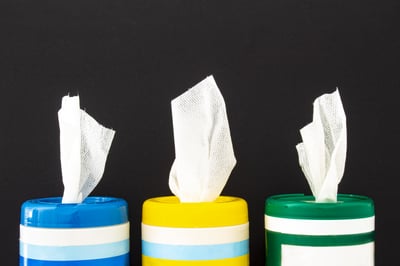 COVID-19 has led to many shifts in our day to day lives, including how we handle our trash. While many of us are working away from the office and schools and generally staying home, there has been a change in how and what we throw away. We've also been throwing away many items we may not be used to managing, like masks and lots and lots of disinfecting wipes.
Properly diverting and separating your waste is as important as ever these days, but you might be dealing with some extra items you're not used to disposing of. And as we learn more about COVID-19 and have a greater understanding of how to keep ourselves safe, it's worth reminding ourselves of how to deal with that waste. Be aware of which bin these items should to go into, and follow these tips to make sure you're safely disposing of waste.
Keep in Mind!
Disinfecting wipes, disposable gloves and masks should always be thrown away in the trash – never in your recycling, compost, or flushed down the toilet, according to Eagle River Water and Sanitation District! Remember to also make sure that items find their way into the trash – not on our trails, paths and rivers!
According to the Centers for Disease Control and Prevention, there is no evidence that the coronavirus causing COVID-19 can be spread through food, so keep composting food scraps and other organics if you have access to composting. In fact, if you're finding yourself cooking much more these days, consider signing up for the residential compost drop off program with Vail Honeywagon!
There is also an ever-increasing consensus that reusables are still safe in these times. As reported by The Guardian, because COVID-19 is most known to be transmitted through aerosolized droplets, using reusable bags, cups and water bottles that can be effectively cleaned at home are no more likely to transmit COVID-19 than single-use alternatives. It's important to reduce contact overall, so bagging your own groceries in your own bag is good practice, according to the group of over 100 scientists around the world who cosigned the statement. That means we can continue to reduce our waste and protect our environment while keeping ourselves safe.
Waste Disposal Tips
It's more important than ever to recycle right. Waste hauling and processing is essential business, and we want to protect the health and safety of those doing that work. That means ensuring that everything going into your recycling bin is safe. Many recyclables are sorted by hand, so haulers are being extra cautious and may reject contaminated bins. Never put food or hazardous materials in your recycling bin!
Never put plastic bags in your recycling bin! Plastic bags in the recycling always pose a health and safety risk, as they cause shut downs at the processing facilities and can compromise the health of employees if they rip them open to sort materials. If you bag your recycling at home, make sure you are emptying the recyclables and throwing the plastic bag in the garbage.
Check the Eagle County Waste Wizard if you're unsure where to put an item. It's always better to know before you throw, and the Waste Wizard is a great tool to stay educated on recycling rules. You can also ask recycling questions through the app and the Wizards will get back to you!
Nina Waysdorf is the Zero Waste Coordinator at Walking Mountains Sustainability.
---
Sources:
Vail Valley sewer systems seeing more unflushable items, Vail Daily
Vail Honeywagon Residential Compost Program