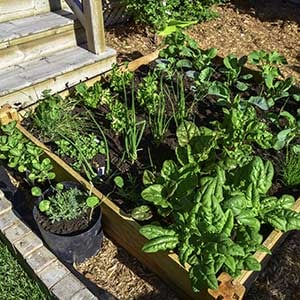 As the weather starts to get warmer and our frosts get fewer and fewer, many of you are likely thinking about starting your gardens for the summer. And as you might have some extra time at home this spring, it's a perfect opportunity to make your garden the best it can be.

A great way to do that is to add compost to your soil. Compost is a wonderful, nutrient-rich soil amendment, the byproduct of a biological process of the same name. That process breaks down organic material – like food scraps, napkins and yard waste – until it resembles really good-looking soil. Compost can be made at home through a backyard compost system, a worm bin (vermicompost) or through a commercial composting service.
The benefits of adding compost to your garden are plenty. Compost is very nutrient-dense, and all those nutrients can help to strengthen your plants. It also helps to strengthen the soil itself, according to the US Composting Council, which can prevent soil erosion and improve water retention. The compost process itself is also a waste reduction system. When organic material (like food and plant material) tries to breakdown in the landfill environment, methane is released, which is a greenhouse gas up to 80x more potent than carbon dioxide according to the EPA. That methane is not released when organics are managed in a compost system. In fact, there is growing research showing that when compost is applied, it can pull carbon out of the atmosphere and into the soil, where it can do a lot of good. That process is called carbon sequestration, and, according to the United States Geological Survey, it can help us reduce global climate change.
So this year, consider giving your garden, lawns and landscapes a little bit of extra love. Adding compost can help your plants grow big and strong, and help our community achieve its climate goals in the process.


Tips for adding compost to your garden:
1. How much compost should you add? According to Colorado State University Extension, a good starting point is to add approximately one inch of compost for every four inches of soil, or 20-30% by volume. The perfect formula might vary according to your planting conditions and the compost you're using, so it's worth doing some experimenting.

2. Choose plants for our climate: As you likely know, our high elevation, short growing season and dry climate can be challenging for many traditional garden plants. However, there are plenty of cool weather plants that grow plenty well up here, like leafy greens, hardy herbs and root vegetables. Also consider planting native plants that are beneficial for our soils and wildlife, and that require fewer resources to maintain. There are many resources available that can help you plan how and what to successfully plant in mountain climates, including from CSU Extension.

3. Keep it local: If you don't have the time or space to maintain a compost system at your home, Vail Honeywagon has a residential compost membership program with drop-offs throughout the county. Evergreen Zero Waste and Vail Honeywagon also have commercial compost hauling available in our community. Consider buying locally made compost products as well. While generally all compost will be beneficial for your gardens, compost produced locally is already acclimated to our climate and environment. Finished compost from Vail Honeywagon is available for purchase directly, or at The Garden Center in Gypsum and Wildflower Farms in Edwards.

Sources for Blog Version
-