While we may scoff at TikTok and struggle to understand their emoji usage, our youngest generation is undoubtedly leading the way on sustainability worldwide. Our community is no exception. I have the privilege to work with the high school environmental clubs or "Green Teams" at both Battle Mountain and Eagle Valley High Schools, and the work they do is inspirational. These student-run after school clubs, supported by Walking Mountains Science Center, have a tremendous impact on their communities. Just this year, they have planned and executed educational events, planted 331 trees, held a clothing drive, supported younger students in waste audits, trained their own teachers on recycling procedures, and so much more! They accomplish this all while navigating teenage life with school, sports, social pressures and of course maintaining their Snapchat streaks.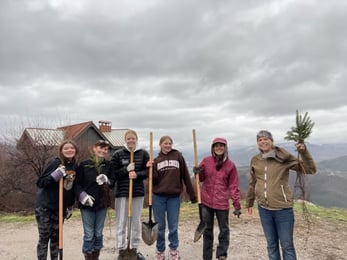 However, the youth of Eagle County need everyone's help! They cannot protect our community or world alone. Now is the time for everyone else to step up as well. Here is "the tea"( AKA the inside information) on how to get involved in sustainability, directly from our youth:
"Focus on sustainable consumption. Think about eating and shopping locally and supporting ethically made products." Hannah, High School Intern at Walking Mountains, age 16.
As a consumer, we can make a significant impact on the environment. Business will follow our demands. If we shop ethically and locally, we can support our local economies and communities. Supporting sustainable businesses such as those in Walking Mountains' Actively Green Program, is a great way to do that!
"Dispose of things correctly and join your local trash cleanup or recycling events." Rylee, Green Team President at Eagle Valley High School age 17.
Recycling correctly is one of the easiest ways to contribute to our environment. In Eagle County, we have an app that will always tell you the correct way to dispose of things: The Waste Wizard! Joining community clean ups is a great way as well to make our area cleaner, reduce pollution, and make some new friends!
"Don't hesitate to use public transport whenever possible. It's less carbon output than taking personal vehicles and it can get you where you need to be when you need to be there." Lukas, Green Team Member at Eagle Valley High School, age 17.
Many students take public transportation because they don't have cars, want independence, or are too young to drive. This is a great option for adults as well! Taking the bus significantly reduces emissions and allows you to enjoy the ride more than driving. If you don't have a bus stop nearby, consider utilizing a park and ride or taking a bike to the bus stop.
"Make doable changes in your lifestyle, even if they aren't huge. As long as you are making commitments to help the earth, even in a small-scale way, you are on the right path and helping." Gigi, Green Team President at Battle Mountain High School, age 18.
No one has to do everything, but everyone has to do something. Figure out the shifts in your life that work for you and for the earth. Does leaving the car at home seem unrealistic? Start with carpooling once a week. Making long-term habits is going to keep your motivation sustainable. Any little changes help!
Follow the example of our youth today and join in on climate action! If we all band together to prioritize our future, we can all make a difference. The teens don't need us to keep up with all the trends or technology, but they do need us to join this important movement: protecting our planet!
---
Elizabeth Baer is the Sustainability Fellow at Walking Mountains Science Center