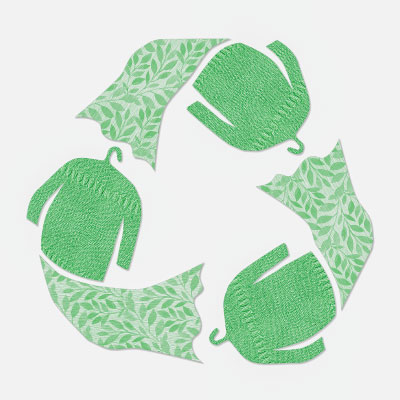 Textiles like clothes, shoes, linens and accessories are a huge and ever growing waste stream. According to a study done by RRS, the Environmental Protection Agency estimates that textiles represent 6.31% of all waste in the United States, for an estimated 16.9 million tons per year. That's a lot of waste that often ends up in the landfill.
If you're aiming for a more sustainable wardrobe, look for ways to minimize waste in your closet and shopping habits. The less waste we have to manage, the better. While there are opportunities for textile recycling, shopping with waste reduction in mind and getting the full life out of your clothes are the most sustainable practices. Even if you need a wardrobe refresh, there are many ways to clear out the old and welcome new trends sustainably.
Tips for a more sustainable wardrobe:
Buy Second Hand. If you're like me, you care about the environment but still want to browse the racks! If that sounds like you, try opting for shopping second hand. You can easily refresh your wardrobe while still giving usable clothes new life. In Eagle County there are a number of thrift shops like Vail Valley Cares Thrifty Shops, and consignment stores like Holy Toledo and remix consignment.
Donate or Sell. Try donating or selling your still usable items! Those same local shops take donations and sales regularly, and there are many online options as well. Poshmark, The Real Real, Stitch Fix and thredUP all have online platforms for all kinds of clothing, shoes and accessories at various price points. And best of all, you can buy and sell from the comfort of your own home! With all of these options, make sure to check the shops' guidelines about what they accept and in what conditions.
Repair Before Recycling. A hole here and there or a shoe in need of resolving doesn't have to mean the end of your favorite clothes. Try a tailor or a cobbler before you say goodbye. Doing so is often cheaper than replacing the damaged clothes. And for the craftier among us, Youtube has an almost endless collection of easy clothing repair videos.
Organize a Clothing Swap. How often do you want to borrow your best friend's clothes? One of the most fun ways to clear out your closet and get a new set of threads is to get together with your friends and do a swap. Bring the snacks and drinks, and shop your friends' closets.
Find Your Closest Textile Recycling. Eagle County has free textile recycling drop boxes at the Vail, Avon and Eagle

recycling drop sites

and at the landfill in Wolcott. These boxes accept clothes, shoes, linens and accessories.
Opt For Durable Classics Over Fast Fashion. Make a shift and invest in durable and sustainable items. Fast fashion, defined by

thegoodtrade.com

as the "design, manufacturing, and marketing method focused on rapidly producing high volumes of clothing," has many negative environmental, social and economic impacts. While fast fashion is cheap and trendy, it is ultimately a largely unsustainable industry. It's designed to break, rip and tear more quickly, so you'll end up buying and quickly throwing away more often. Investing in a few durable classics that can hold up to repairs when needed is a much more sustainable practice. And while better made items may cost more upfront, you'll end up replacing these items less often and saving money in the long run.
---
Nina Waysdorf is a Sustainability Programs Coordinator at Walking Mountains Science Center.