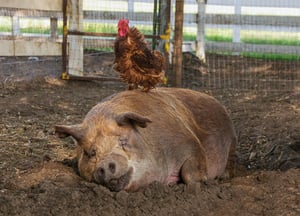 What's your version of a farm? Have you ever wanted to be a farmer? This month join Walking Mountains Science Center for a screening of The Biggest Little Farm which follows a couple, Molly and John Chester over the seven year process of moving from a small Los Angeles apartment to a 200 acre farm. The couple are challenged with converting the farm from a typical monocropped fruit orchard with degraded soil to a lush, diverse farm that closely resembles a healthy "natural" ecosystem.
The film brings complex agricultural and scientific concepts such as biomimicry, permaculture, inter- and cover-cropping, and integrated pest management into cinematic focus through examples that can be understood as just another part of the circle of life. They use organic and natural methods to control pests, for example when a snail infestation threatens their fruit orchards, they discover that one of the animals they already kept on their farm eats snails as a tasty snack. There are several examples of this trial-and-error approach. What's more is that the errors they make through this process are highlighted just as much as their successes. Just as in the natural world, their farm is an ecosystem that goes through periods of balance and imbalance, and birth and death are equal parts of the process.
Many scenes of the film read almost as if they are from a National Geographic or Planet Earth special, with predator-prey relationships played out on a micro scale on their farm. Each new challenge must be met with creativity, understanding, and respect for the natural processes that will inevitably threaten a farm committed to restoring the health of the ecosystem, from humans and animals to plants and soil. The film shows the beautiful, and at times tragic, realities of life on a farm that values the needs of humans alongside—not above—the needs of the ecosystem.
The Biggest Little Farm will be featured as part of the 8th Annual Sustainable Film Series on Tuesday February 11th at 6:30pm at Riverwalk Theater in Edwards. The Sustainable Film Series is an annual project of Walking Mountains Science Center intended to raise awareness and encourage community conversation about environmental issues impacting our world.
To view the entire line-up for the series, visit www.walkingmountains.org/films and for
more information about this film, visit www.biggestlittlefarmmovie.com.


IF YOU GO.....
What: The Biggest Little Farm film is part of the Sustainable Community Film Series
When/Where: Tuesday Feb. 11 at 6:30pm at Riverwalk Theater, Edwards
Cost: $5 suggested donation
More Information: Email melissak@walkingmountains.org