The Bookworm of Edwards is a local book and coffee shop providing a wonderful and inviting atmosphere to eat, meet, and read all while enjoying delicious snacks and beverages. But not only is this coffee shop a local favorite, they are also an Actively Green certified business!
We sat down with the Bookworkm of Edwards to learn about how they are advancing sustainability in their business, specifically when it comes to purchasing!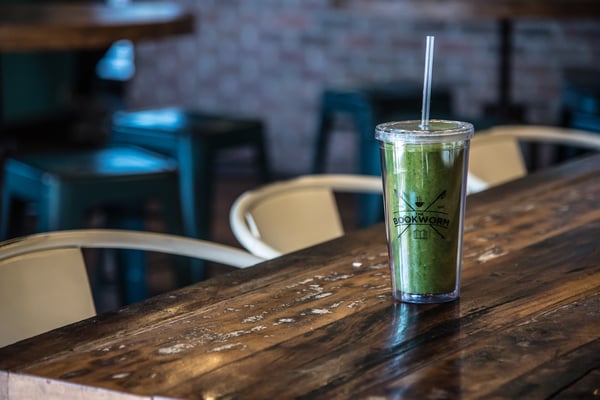 What steps has the Bookworm taken to encourage sustainable purchasing in your business?
To Go Cups
Our to-go cups used to be compostable, but we did not have access to compost pick up so they were all ending up in the trash. We changed the compostable cups to be recyclable cups so they would be recycled rather than landfilled.
Cold Drink Cups
For all cold drinks that are not to-go, we found a reusable tumbler. Now we don't have to give out disposable cups for cold drinks when customers want to hang out in the store.
This was a tricky transition! We have lost a lot of tumblers from customers taking them, or thinking they are disposable and throwing them out. We had to train our staff and our custome
rs to ensure a successful transition! We have our staff ask customers if they wanted their drink for here or to go at the register, so folks know if they can take their drink and cup with them. We also remind the customers when they go to the waste stations, where we have Bookworm specific products pictured on the receptacles, to direct customers on what should be landfilled, recycled, or set aside for wash and reuse.
LED Lights
We primarily use CFL bulbs in our store because they have a warmer light that is better suited for a bookstore environment, but we are experimenting with LEDs right now, and plan to replace CFLs with LEDs as they go out.
Renovation in 2017
We had a renovation back in 2017 and rather than buy new tables, we reused the old tabletops that were square, repainted the bases, and reshaped them to be circular. All our new benches were made by a local contractor, and we had a local painter re-do all of our paint with No VOC paint (paint that does not off-gas Volatile Organic Compounds, a cancer causing chemical). We sold or donated all of our old furniture and ended up having zero construction waste to landfill at the end of the renovation!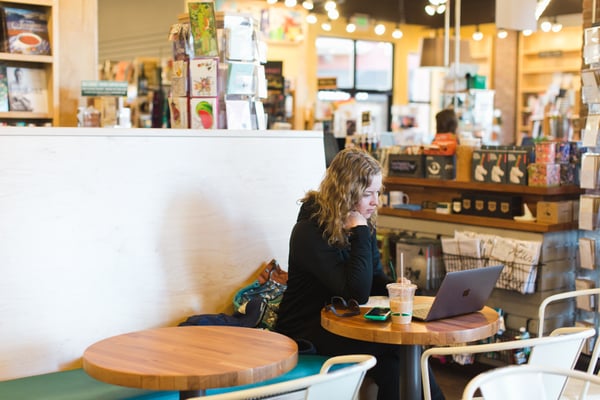 Food
We have always prioritized buying local, both around our community and throughout the state of Colorado. We also always buy organic when possible. For example we buy our Jam from a woman in Paonia and wash and return all our containers to her for refilling! We also have a local baker who provides all of our baked goods.
Day-to-Day Office Supplies
The last thing we've done is changed purchasing habits for day to day items such as printer paper. We used to just re-order the same products time after time to simplify the process, but we've started to work with our vendor out of Glenwood Springs to identify products with more sustainable qualities, i.e. recycled content.
What challenges have you run into as you look into sustainable purchasing options?
Cold Drink Cups & Straws
Our customers were throwing out the reusable tumblers because they didn't know they were supposed to be reused, but we are combating this issue with customer education! Another challenge we are trying to confront is the use of straws for to-go cold drinks. In our reusable tumblers the straws often break when they are sanitized, and we'd like to get to a point where we don't have to give out straws in our to-go drinks. We are constantly looking into solutions, but we haven't been able to find a straw solution that works for our customers just yet.
Are these challenges specific to your business or can they apply to many businesses?
The challenge with the straws, will require an industry wide solution, there are no good options on the market. We went to a coffee conference and asked each vendor what they do about re-usable straws or lids that don't require straws, and no one had an answer. Solutions will come and when they do, they can be adopted by the entire industry. Finding LEDs lights that are business appropriate is also a challenge faced by many diverse businesses.
How has Actively Green encouraged your business to continuously improve your purchasing?
We revisit our purchasing options annually to see where we can make improvements. We also have staff policies that reflect the new sustainability practices as we develop them, to ensure it's engrained in staff culture. Our Green Team leads the charge on our sustainable purchasing!
What would you recommend to other restaurants looking to upgrade their purchasing standards?
Many restaurants around here are already doing great things in terms of purchasing local food. If administration time can be set aside in each restaurant to work towards Actively Green Certification, a lot of restaurants would find they are already most of the way there!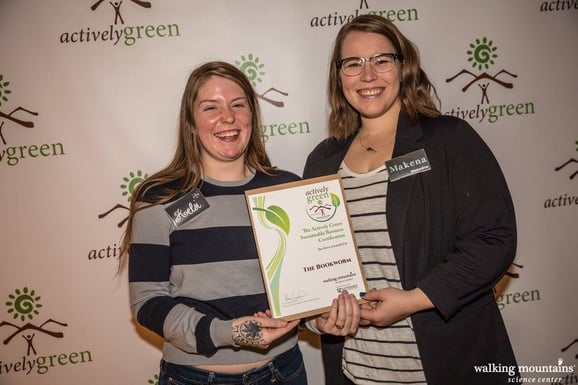 A special thank you to Nicole Magistro and Makena Burner from the Bookworm of Edwards for the interview and pictures!