Recycling reduces resource constraints, saves emissions, and prevents pollution
Many people already connect the impact recycling efforts have on reducing environmental impact and landfill waste, however, it is oftentimes less evident the importance of recycling in the greater context of globalization and connected world markets. When thinking about the global pressures we are currently facing, including resource loss, climate change, and pollution, recycling becomes increasingly important as a solution to each of these issues. By better understanding the process of recycling, and how it is interconnected with these environmental issues, we can increase our individual commitment to recycling and work collectively towards solutions on a local scale.
First and foremost, recycling is especially critical in addressing the exploitation of natural resources. While our Earth's population grows, the demand for raw materials continues to increase. Meanwhile, the number of finite resources we have is decreasing, including available water supply, trees, sand, and soil. We do not always consider how many of the things we use every day come from raw materials, including cardboard and paper from trees, plastics from oil, and metal from rocks and sand. Furthermore, we sometimes neglect to see how much water and energy it takes to extract and process these materials into things we can use. However, by taking small steps to recycle common materials such as paper, for example, 17 trees can remain planted, 7,000 gallons of water can be conserved, and 463 gallons of oil can be saved for every ton recycled (Less is More). Recycling reduces the pressure to expand deforestation, exacerbate mining, and deplete water reservoirs, assisting in conservation efforts. By recycling, we can help preserve the natural resources that we need to survive and thrive for generations to come.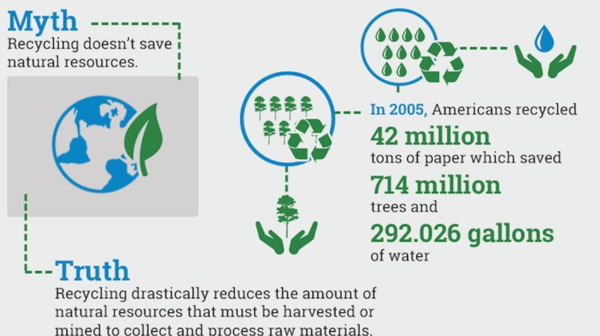 Recycling is also crucial because it reduces energy consumption, helping to mitigate climate change by reducing CO2 emissions. One of the main ways recycling saves energy is that recycled materials have already been refined and processed once, so manufacturing them a second time is much cleaner and less energy-intensive than the first when making a new product. National studies show that 89 million tons of materials that have been recycled or composted in the US have already saved 186 million metric tons of carbon, the equivalent of taking 38 million cars off the road every year. Energy payoffs are evident from recycling, although the amount of energy saved per material recycled varies. Aluminum saves the most energy through recycling, with 95% of energy saved, plastic follows with 87%, paper with 68% and lastly glass, with 34% of energy saved by recycling (Eco-Cycle). Ultimately, it is important to recycle because it reduces the amount of fossil fuels burnt in the manufacturing process, in turn reducing the amount of emissions in the atmosphere contributing to climate change.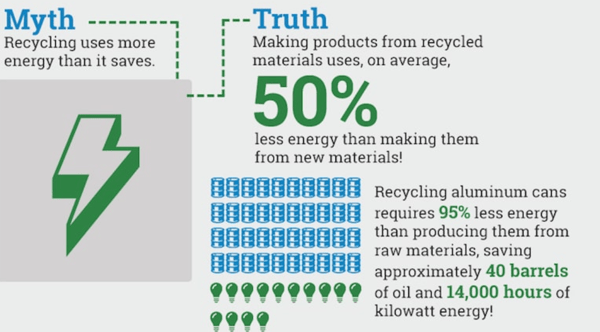 Lastly, we must consider why recycling is important in the context of pollution. Recycling drastically reduces the amount of pollution being released into the environment, whether that be in our air or our surroundings. When materials are properly recycled or composted, they decrease the release of greenhouse gases, especially methane and CO2, in comparison to landfilling or incineration. Decaying carbon or organic matter that is landfilled rather than properly recycled or composted releases methane, a greenhouse gas that traps in 84 times more heat than the CO2 we normally associate with cars and climate change (Eco-Cycle). Incineration, the burning of waste to create energy, has negative consequences on both human health and the environment, as toxins including mercury, dioxides, and lead are released. Properly disposing of waste reduces greenhouse gas emissions as well as particulate air pollution, which is why it is important to recycle.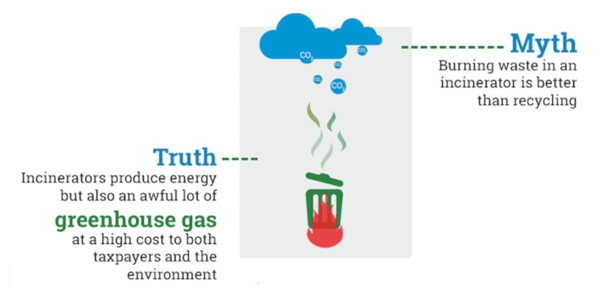 And it is important to remember the consequences of pollution caused by single-use materials, especially plastics. According to the UN, plastic waste constitutes between 60% and 80% of marine debris and is one of the world's most pervasive pollution problems impacting our oceans and waterways. Although it is the first priority to reduce single-use plastic use or refuse it altogether, recycling does help reduce the amount of plastic that ends up in our environment.
In Eagle County, 26% of our residential and commercial trash was recycled and diverted from the landfill in 2018 (State of Recycling in Colorado). This is better than the state recycling average of 12%, although areas of improvement remain in order to reach and exceed the United States average diversion rate of 34%. It is crucial that we maintain and build upon recycling momentum in our community, because recycling prevents the extraction of raw materials, reduces energy consumption, and cuts down on pollution. By better understanding the significance of recycling in the context of our current global pressures, we can improve our local commitment to recycling which helps move us one step closer to achieving our Climate Action Plan goals of reducing emissions 25% by 2025.
SOURCES:
http://lessismore.org/materials/28-why-recycle/
https://www.walkingmountains.org/wp-content/uploads/2018/10/October-2018-CAC-PPT-Meeting.pdf
https://drive.google.com/drive/u/1/search?q=the%20state%20of%20recycling%20in%20colorado