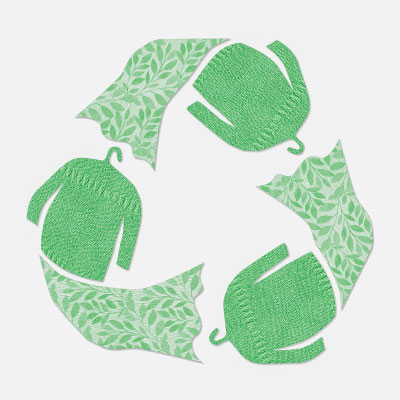 Fast fashion is a business model in which clothes are mass-produced quickly and inexpensively in order to keep up with the latest fashion trends. The fast fashion industry has been described as a "race to the bottom", meaning that companies face competitive pressure to pay their workers less and cut production costs wherever possible. But the success of cheap, trendy, and disposable clothing carries many negative repercussions, including pollution and inhumane working conditions. According to The World Bank, the garment industry is responsible for 20% of the world's wastewater, 10% of global carbon emissions and half a million tons of ocean-bound microfibers each year.
As more consumers become aware of the socio-environmental consequences of fast fashion, ethically sourced and responsibly manufactured clothes are growing in popularity. But the demand for sustainable apparel has also sparked widespread greenwashing, which the Oxford English Dictionary defines as "disinformation disseminated by an organization so as to present an environmentally responsible public image". Brands have an incentive to appear sustainable, because eco-conscious consumers are often willing to pay more for sustainable products.
One common way apparel brands greenwash their products is by using vague claims or unverified labels such as "eco-friendly." Thankfully, there are a number of independent certifications that guarantee adherence to certain social or environmental standards. These can help consumers distinguish genuinely sustainable brands from the growing number of greenwashed products, but the abundance of acronyms can also be overwhelming. Next time you're shopping for apparel or textiles, look out for these five commonly used certifications:
1. B-Corporation (B-Corp)


The B-Corp Certification evaluates a company's impact on the environment, customers, workers and community. This certification emphasizes public transparency, supply-chain awareness and the full life cycle of a product. The B-Corp certification takes a holistic approach to sustainability and requires companies to balance purpose and profit. Some examples of B-Corp Certified apparel companies are Patagonia, Athleta, Toms and Cotopaxi.
Fair Trade USA focuses on the social side of sustainability, with safe working conditions and living wages at the heart of the certification. The mission of the organization is to alleviate poverty and encourage sustainable development for farmers and workers. The certification is most often seen on consumable goods such as coffee and chocolate. However, there are several clothing companies who have been Fair Trade certified, including REI, prAna, J.Crew, Pact and Madewell.
3.
Global Organic Textile Standard (GOTS)
While B-Corp and Fair Trade USA can be obtained by many types of businesses and goods, the GOTS certification was made to evaluate the social and environmental impact of textiles in particular. The certification process involves an independent assessment of a final product's entire supply chain. This certification restricts toxic chemicals and guarantees at least 70% organic materials, or 95% for items labeled "organic." GOTS is globally recognized, with factories located in 64 different countries. GOTS certified companies include Organic Basics, Everlane, Pact and Synergy.
4.
Global Recycled Standard (GRS)
The Global Recycled Standard is an international certification that verifies the recycled content of apparel and other products. The process requires companies to prove they are using reclaimed materials that would have otherwise ended up in the waste stream. GRS standards also address social, environmental and chemical criteria to provide a well-rounded verification of sustainability. GRS certified products must contain at least 50% recycled content and be free of hazardous substances. Brands boasting the GRS certification include Wolven, Kuyichi, TALA, Silou and Mandala.
5.
Standard 100 by OEKO-TEX
Standard 100 is a global textile certification that guarantees product safety by testing for harmful substances. The OEKO-TEX criteria considers over 100 regulated and non-regulated substances which may pose harm to human health. Every part of a garment is tested, including the thread, buttons, and zippers. The limit values are stricter for infant/toddler products and products with direct skin contact, such as pillows and underwear. Brands with Standard 100 certified products include Reformation, Calvin Klein, Outland Denim and Fruit of the Loom.
Tara Doyle is a Sustainability Intern with Walking Mountains Science Center.