Expanding Zero Waste one Tent at a Time
Walking Mountains Sustainability was the recipient of a Recycling, Resource and Economic Opportunity Grant from the State of Colorado. This grant allowed us to purchase 10 new zero hero tents and 30 trash, compost, and recycle bins! In the past, Walking Mountains Science Center was only able to provide zero waste services for local towns who had their own infrastructure for compost, recycle, and trash. For many years we have been asked by various local community groups to borrow zero waste stations for their events and unfortunately we would have to say no. Now we are able to provide this opportunity by having our own infrastructure. We are also able to provide zero waste services to events within town's that do not currently have zero waste stations!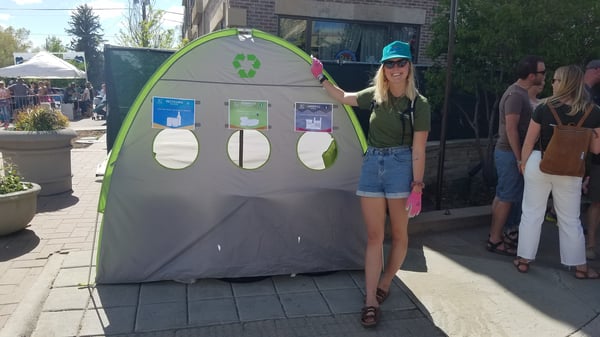 We have received a very positive response so far from event attendees about the stations, our educational signage, and an overall excitement that the waste at the event is being diverted from the landfill. Our Sustainability department has receive multiple phone calls in just the past three weeks from community organizations asking to borrow our new stations. Just this year we were able to expand zero waste services to the Town of Eagle for their regular events, and the Town of Minturn for their Saturday markets.
Through our regular Zero Waste events and the addition of new events (thanks to our new bins!) we continue to increase the amount of waste we are able to divert from all of the fun summer events that our community hosts during the summer.
Check out our report out on diversion rates for our events so far this summer! Hint the % refers to the diversion rate, meaning that percentage of waste was diverted away from the landfill.
Blues, Brews, BBQs - 65%
Bonfire Block Party - 79%
Mountain Games - 74%
Purina Pro Plan Incredible Dog Challenge - 86.26%
Rocky Mountain Burger Battle/Craft Beer Classic Toast of Vail - 79.79%
Beaver Creek Independence Day - 74%
Beaver Creek Rodeo (June 27) - 76%
AvonLive Avg Diversion – 82.66%
ShowDown Town Avg Diversion – 83.86%