In home-energy improvement aim big, but start small
Like a lot of people reading this I was curious about installing solar power on my roof. Would I save money on my energy bill or would it cost me an arm and a leg? Are there rebates or subsidies out there? Should I lease or buy and, ultimately, is my house in a good spot for solar?
I also fundamentally wanted to know: Is solar power all it's cracked up to be? I've got kids. I want them to grow up in a better world. Since all the energy on earth all got its start with energy from the sun, I figure why not go directly to the source? It seems like the smart, efficient, and beneficial thing to do, but there are a lot of variables. Would it really turn be a reliable clean energy source for me and my family?
As I looked deeper into this issue, I discovered that there is an entire network of people there and ready to help. Their advice? Start with a home energy assessment. Why? Because that's how you tap into all those amazing rebates, and it's also a very simple, easy, low-cost way to figure out how to make your home more efficient.
I had no idea how much money and energy I was wasting until I had my home energy assessment. I also had no idea how easy it was to fix the problems, seal the leaks in my home, and save money on my energy bill.
I had a leak in my side door that whistled like a teapot on cold mornings. I got to see this in full-color when my Energy Coach from Walking Mountains Science Center pulled out this cool little device that showed me a heat-spectrum read-out of that particular leak and, it turns out, about 20 more like them that allow my house to shoot hot air into the sky in an invisible, never-ending, thermal fireworks show.
A ton of our energy waste is due to residential buildings. I wanted to be part of the solution, not the problem.
Sealing your home or business is also among the easiest steps in helping the Eagle County Climate Action Collaborative reach its goals of reducing greenhouse gases by 25% by 2025 and 80% by 2050. All around the world, and right here in Eagle County, people like me are doing little things here and there to reduce their emissions, investing in a better future for all of us, and in the meantime lowering their energy bills.
I spent about $300 at the hardware store and thanks to a little help from my hard-working 17-year-old nephew I now have leaks sealed, LEDs installed, and my home no longer whistles like a teapot. The savings on my monthly bill will cover this in a reasonably short timeframe.
I also decided to spend around $1000 on properly insulating my attic. This will take a little longer to bring a return on my energy bill savings, but it will also make my home cooler in the summer and warmer in the winter. All of the above is just the start, and we plan on going even farther to make sure our house is as energy efficient as it can be.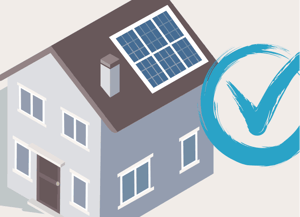 I'm aware that not everyone has the cash on hand to make even the smallest of adjustments to their home. Or, maybe they rent. Or, maybe they are a landlord and don't want to put a couple hundred bucks into tightening up their energy efficiency just so the tenant can save money on their monthly bills.
There are answers to all of the above: Assistance programs can help make the energy assessment affordable, rebates can cover some or all of your costs, and everyone from a tenant to a landlord, a primary resident to a second-home owner call all benefit by hosting an assessment, taking care of the known issues, and doing their part to make sure our community hits its greenhouse emissions goals.
As for solar?
It turns out I don't have a ton of good roof space for solar. But I have enough that it's worth signing up for a small-to-medium sized installation.
Perhaps most importantly, I learned I can sign up for renewable offsets through Holy Cross Energy. I went to https://www.holycross.com/renewable-energy-purchasing-program/ and for a few bucks more a month I am doing my part to run my house on renewables, and support the expansion of more renewable energy.
Now, instead of living under a roof that's leakier than an old farm bucket, my solar power installation will be one aspect of a complete energy reduction and renewable mix that represents a smarter, more efficient, way to run a home.
Learn more at www.climateactioncollaborative.org.