Health & Sustainability aren't mutually exclusive
If you've ever gone to the grocery store to shop for your family, you know that reading labels can be revelatory, but time consuming. To speed up the process, many shoppers have an internal list of "dos and don'ts," like avoiding high amounts of sugar, overly chemically-sounding ingredients, and even expiration dates that signal too many preservatives are in play.
We pay attention to ingredients because eventually we're going to put them into ours and our families' bodies. But why stop at food? With a little effort, we can bring that same knowledge and apply it to the cleaning products we use in our home on a near-daily basis.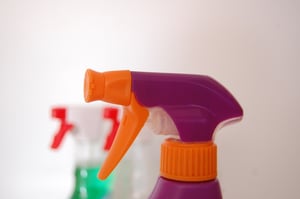 'Green Cleaning' is a widely recognized best practice in commercial buildings and homes. Green cleaning no only implies the products you are using are safe and non-toxic, but also that they made with recycling content, minimal packaging, and are recyclable at the end of their life. In 2015, the Eagle Valley waste diversion rate was 19.6%, and the recycling rate was 26.9%. The Eagle County Climate Action Plan suggests that one of the easiest ways to make positive impacts in waste sector is by implementing more sustainable purchasing practices – and a great place to start is with cleaning products.
To simplify choosing products in the grocery store, search for proven environmentally friendly brands, such as Seventh Generation, Greenworks, SimpleGreen, Method, Ecover, Dr.Bronner's, Murphy's Oil, and Bon Ami (all available online or at larger stores like Target). If none are available close by, check for an "eco-label" on product packaging. If you own a business or purchase cleaning supplies in bulk, Organic Housekeepers uses only biodegradable, non-toxic cleaning supplies, and Abel Industries has a Sustainable Criteria LEED CERT filter.
Label reading is another option – however it takes some familiarity or a nearby smartphone to understand what exactly is in every cleaning product. Here's one example of label wordplay: dihydrogen oxide is just ordinary water, while dihydrogen dioxide is a topical disinfectant and mild household cleaner which can produce toxic effects with long term use. If, like many, you'd like to avoid adding time at the grocery store reading small print, other solutions – pun intended – are even easier.
We've become so infatuated with the squeaky-clean scent of bleach that some of us might have forgotten the most local and earth-friendly we can get is by creating our own cleaning products! Like cooking instead of eating out, homemade cleaning products can be the cheapest option (no additional cost for packaging) and better for your health. The best part? No one is going to taste test your result, so even amateur cooks can whip up a mix without fear. Common mixes include familiar ingredients like white vinegar, baking soda, washing soda, lemon juice, hydrogen peroxide and club soda. Free "recipes" can be found on sensible-house-cleaning-solutions.com and similar sites.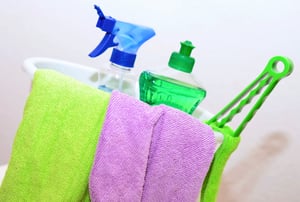 The cleansers we currently use in our homes come into direct contact with our floors, our clothes, dishes and furniture, as well as our skin, hands (and therefore mouths) every day. Chemical residue can be found in the air – looking at you, Febreze lovers – and harsh chemical runoff can even find its way into our water systems, affecting the lives of the plants and animals around us. The EPA states on their website that alkylphenol ethoxylates (a common ingredient in cleaners) can cause adverse reproductive effects in wildlife that are exposed to it. Volatile organic compounds (VOC), which are released into the air through the use of most cleaning products can "affect indoor air quality and also contribute to smog formation in outdoor air."
Now to the packaging. Almost every cleaning product now-a-days is sold in a plastic container, and plastic trash is a primary driver of landfills and ocean pollution. According the National Geographic (Planet or Plastic, June 2018), less than a fifth of plastic waste is recycled, and in the US, it's less than 10 percent. More than 40 percent of plastic is used only once, and then disposed of. The high levels of waste created from plastic, paired with the single-use nature of cleaner packaging, means cleaning products might be one of the most prevailing culprits of environmentally damaging household waste.
Clean is clearly good, but not all clean is green. For Eagle County residents, purchasing or preparing greener cleaning products is a quick step to begin lowering negative environmental impact!
Whichever cleaning solution you choose, aiming to use or create greener product is an easy way to help reach Eagle County's goal of reducing emissions 25 percent by 2025, and 80 percent by 2050. Cleaning is a way to freshen our homes, and if we do it properly we won't have to be concerned about damaging the original, best fresh scent producer of them all – the planet!
Sources:
https://www.nationalgeographic.com/magazine/2018/06/plastic-planet-waste-pollution-trash-crisis/
https://www.epa.gov/greenerproducts/greening-your-purchase-cleaning-products-guide-federal-purchasers
https://www.sensible-house-cleaning-solutions.com/environmentally-friendly-cleaning-products.html