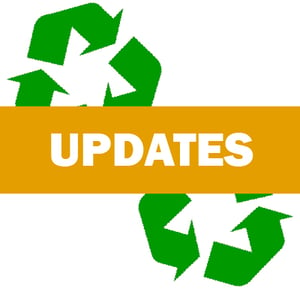 Recycling is one of the most visible and accessible ways we can reduce our impact on the planet. Nearly everyone knows about recycling and we are all familiar with the famous "chasing arrows" recycling symbol and the reduce, reuse, recycle motto. Most people do their best to recycle as much as they can and take pride in the fact that they are diverting these materials away from the landfill and back into circulation. However, this process is much more complicated than people realize and there is potential for mistakes and unintended consequences.
For starters, recycling rules can be difficult to decipher. The rules can vary based on where you live and how you recycle. For instance, here in Eagle County, we have both single-stream and dual-stream recycling. If you live in Eagle, Minturn, or Arrowhead, or if you take your recycling to one of the free recycling drop sites then you have dual stream recycling, which seperates the commingle (recyclable plastics, glass and metals) from the fibers (paper and cardboard). All other communities and most business in Eagle County have single stream recycling, in which everything goes into one bin. And the rules are little different between the two systems.
Don't worry, there are many items that are recyclable county-wide. Tin and steel cans, aluminum cans (please don't crush these, it can cause the sorting machines to mistake them for a contaminant), glass bottles, and plastic bottles, tubs, jugs, and containers with the chasing arrows symbol and recycling # are all accepted in our recycling bins (commingle for dual stream). Paper, newspapers, magazines, paperboard, and junk mail are also recyclable, but should go in their designated second bin if you have dual-stream. Cardboard can be recycled in all recycling across the county, however, it cannot be picked up curbside if you have dual stream recycling, and it must be taken to the free recycling drop sites instead. Plastic cups and clamshell containers (with the recycling symbol and number) and contained shredded paper are accepted in dual stream recycling.
However, there are still a few differences between the two systems. For single-stream, aluminum foil, as long as it is not contaminated with food residue, can be balled up and recycled. Plastic cups and clamshell containers (with the recycling symbol and number) and contained shredded paper are accepted in dual stream recycling, but not single stream recycling.
You may be asking, why does this have to be so complicated? The reason is because of commodities markets. The ability to repurpose all our recycled materials depends on there being an end market; a manufacturer who is willing and able to remake the material into a new product. The economic forces of supply and demand dictate which materials are accepted and which ones are not useful or valuable enough to be recycled. Infrastructure and transportation are also factors in what is recyclable and where, as materials need to be able to be safely collected, sorted and transported to a manufacturer in order to it to make sense to recycle.
Given this, it's important to know what can and can't be recycled. "Wishful recycling" happens when we aren't sure whether a product can be recycled or not, but we throw it in with the recycling anyway and hope that it was the right bin. It's something we've all done at one time or another, typically with the best intentions, but unfortunately it can cause more harm than good. Contaminated recycling is one of the biggest challenges to successfully repurposing materials and can result in entire batches of recycling going to waste. Luckily in Eagle County we have lots of resources to help decipher recycling rules and keep track of the updates.
The bi-annual Recycling Guide is updated and published in English and Spanish every 6 months to capture changes in recycling rules. This guide is shareable, downloadable and printable and can be hung on fridges and posted in break rooms to remind your friends, family and coworkers how to recycle right in Eagle County. Additionally, the Eagle County Waste Wizard app can quickly and easily tell you where each item should go. This free app is available on the App Store and Google Play in both English and Spanish, as well as a web platform on the Walking Mountains Science Center website. Through this app you can search by material and it will tell you which bin to put that item in. You can also check the calendar for upcoming recycling tours and hard-to-recycle events. Additionally, if you don't see an item you're looking for you can suggest it or Ask a Question and the Wizards will help you out.
Although recycling can be confusing, the answers are out there. Always remember to know before you throw and look out for updates so you don't accidentally contaminate your recycling bin. Happy Recycling!
---
Mike Gonzales is a Sustainability Intern at Walking Mountains Sustainability.