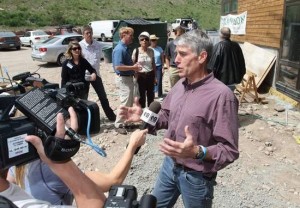 On Friday, June 3rd Senator Mark Udall visited the new Walking Mountains Science Center in Avon, CO. The Senator was keen to hear about the non-profit/public partnership that Walking Mountains has forged with the Eagle County School District. A small group of folks, including representatives from the Town of Avon, Walking Mountains and the Eagle County School District, participated in a discussion about this successful collaboration.
Walking Mountains currently influences about 3,500 Eagle County school kids through a variety of programs such as supplementary field studies classwork, a full time Avon in-school science teacher and the popular "Girls in Science" after school program. Science literacy has increased across the board as a direct result of these programs. Programs that are subsidized and made possible through generous donations.
The new Walking Mountains Science Center will open to the public on August 20th of this year. The expansion of facilities and programs will hopefully allow the center to achieve a goal of reaching all 6,000 K-12 students in Eagle County on a yearly basis.
"We're in a tough economic situation right now," Udall said. "The way we're going to grow is through innovation, science and research. Anything to get (kids) interested in science will pay off."
Stay Connected! Sign up to receive Walking Mountains news by email