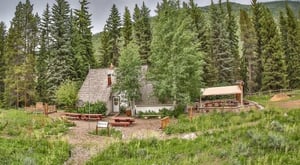 Walking Mountains Science Center proudly partners with the Vail Recreation District and the Town of Vail to provide world-class programming at the Vail Nature Center. With stream-side trails along Gore Creek, plant and animal exhibits, and a friendly staff, it is truly one of Vail's best kept secrets.
The Vail Nature Center is located across Gore Creek from the Betty Ford Alpine Garden and the Gerald R. Ford Amphitheater. From any point in Vail, the Nature Center is easy to reach. Take a bus to the Soccer Fields or the Tennis Center. Walk or ride your bike from Vail Village along the Gore Creek Trail. Parking is also available at the Soccer Field or the Tennis Center.
Vail Nature Costs
The Vail Recreation District charges a nominal fee to support some Vail Nature Center operations. However, many activities are also free. Call the Vail Nature Center for details at 970.479.2291 or check the schedule here.
See below for a sampling of programs offered at the Vail Nature Center. Interested in a custom or private program? We'd love to create something for your family, friends, special group or even wedding. Our team of trained naturalists and hiking guides are here to ensure your adventures in Vail are both fun and educational!
Vail Nature Center Summer Summer Information
Dates
Memorial Day to Labor Day
Hours
7 days a week, 9 am to 5 pm
Programs

Vail Wildflower Walks

Wildflowers abound in the summer high country of Colorado. From May to September there is a succession of color at the Nature Center. Join us for a leisurely walk to learn about the flowers that carpet our mountain floors and about the places and conditions they need to thrive.

Morning Vail Bird Walks

Birds love the Nature Center and so do people who love birds! On our morning walks we are likely to see Warblers, Western Tanagers, Grosbeaks, Dippers and a host of others. Come to amble along the streamside of Gore Creek and watch for a variety of birds.

Evening Vail Beaver Pond Tours

Beavers are one of the animals that define the Rocky Mountains , and we often see them right here in Vail! Join us at dusk to learn about and look for these amazing animal architects.

Vail Family Fun Nights

Bring the whole family to meet a series of special guests who will teach us about our natural world. This is your chance for an up-close and personal encounter with live animals, outdoor professionals and other colorful characters. Call the Vail Nature Center for a list of guest speakers.

S'mores and More: Family Vail Campfire Programs

A warm campfire, exciting stories of woodland adventure and the sweet smell of burning marshmallows fill this family program at the Nature Center! We'lIt's sure to be a fun evening for the entire family.

Stories in the Sky: Stargazing at the Vail Nature Center

Each constellation has a story. Identify the stars and hear their stories while you gaze into the dark and bedazzled night sky of the Colorado Rocky Mountains.

Creekside Tours from the Vail Farmers Market

Join a naturalist for a walk along Gore Creek. You'll learn about the special plants and animals living in this riparian ecosystem in the heart of Vail. You'll also learn about some of Vail's first residents as you make your way to the end of the tour at the historic Nature Center farmhouse building.